It was my first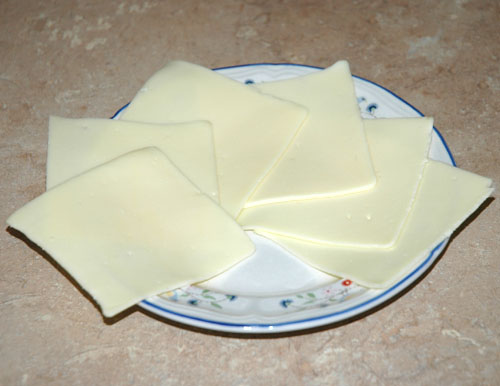 trip to the grocery store after moving to Canada. My Canadian husband who had been living with me for a while in the states was with me. As I frequently did on our trips to the grocery store I asked him to run to the deli while I did other shopping. I only wanted some very basic staples for this shopping trip and asked him only to get some American cheese, something he was accustomed to retrieving from delis in the USA.
"Ummmm," he said, "I don't think they will have it."
"Why not?"
"This is Canada."
"You mean you don't have American cheese anywhere in Canada?!"
"No. It's called 'American cheese.'"
"Well we have Swiss cheese in America! Do you not have Swiss cheese here because it is named after Switzerland?" Of course this was a sarcastic question.
I walked to the deli counter and looked around. No cheese. Not just no American cheese but no cheese at all that I could see. I  asked the deli worker if they had American cheese and she, looking confused, asked, "Do you mean Prince Albert fresh cheese?"
"Prince Albert what?" I thought.
I looked over to where she pointed, in a half hidden little display case I could see a couple of huge rounds of what looked like some kind of very dry cheese. It finally really sunk in that they had absolutely no clue what American cheese was and that I was going to have to live without it for a long time.
Compared to other things in life, it is a small problem. But it is still upsetting to suddenly lose a food that you have always relied on. Imagine suddenly finding yourself in a life situation where a loved food staple is not longer an option. Whatever it is for you, ketchup, pizza, bread, salad dressing, something that you may take for granted because you think it will always be there and you have never even considered life without it, when it is suddenly gone, it is more upsetting than you might think. American cheese is a comfort food for me. I have always had it available my whole life. It is the go to cheese for deli meat sandwiches, cheeseburgers, grilled cheese, and many more things. Other cheeses are great too! I am not putting down Cheddar or Colby or Mozzarella or any other cheese! They all are great and have their own applications, but American cheese has its definite niches. Niches that, in a pinch, can be filled by many other wonderful cheeses, but for many of them, the first choice for me would be American cheese and it is often just a little disappointing to not have that distinct flavor that American cheese lends to a dish.
It is no secret that people from many countries, especially European countries, scoff at the very idea of "American cheese". But I had no idea that you could not even buy the stuff outside of the USA. Even as close as I was to the New York border, in Ottawa, they didn't even know what it was!
I accepted the situation and began buying other cheeses for my needs. It was a very difficult and stressful time in my life for other reasons, and American cheese was not the only comfort food that I suddenly realized that I would be without for a long time. I was not warned that the food culture in Canada is as different as it is. I mourned my losses and part of that mourning process was to talk about it. I have many friends and acquaintances all over the world due to my online social tendencies and many of these people are foodies. Many of them are Europeans and other Canadians and through conversations with these people I have come to the realization, that most of the world does not know what American cheese actually is! When I asked if they knew what American cheese was, I almost always got a reply with a dismissive and repulsed attitude.
"American Cheese? Isn't that that plastic, rubbery, individually wrapped, fake cheese?"
"That is the nasty orange gooey stuff they put on nachos."
"Oh American cheese, like on McDonald's cheeseburgers right?"
Even my Canadian uncle, who has been living in the USA for at least 15 years laughed and said, "Of course there is American cheese there! It is in the refrigerated section."
I clarified, "You are talking about Kraft singles right?"
"That's right."
I watched television programs that would occasionally mention American cheese from an outside the USA perspective and it was more of the same. Food and cooking videos often warn you not to defile their recipe with American cheese while showing a picture or otherwise implying that Velveeta or Kraft singles are American cheese. Even television programs and YouTube videos from Americans didn't help the matter by constantly making the same mistake. If you search Google images for "American cheese" you will mainly see images of Kraft singles and similar products. Well, no wonder the rest of the world snubs their noses at American cheese! They think American cheese is Kraft singles! If that was true I would completely agree that it is garbage, but it is all a terrible misunderstanding. I want to try to set things straight.
Why do so many people, even many Americans think that Kraft singles, Velveeta, Cheese Whiz, etc. are American cheese? Deceptive labeling. These "cheeses" are made to mimic American cheese, while using cheaper ingredients and typically more fat and more salt than classic American cheese. There is actually a law governing what may be labeled American cheese and these products do not fit within acceptable criteria. For this reason they label their products as "American cheese food", "American slices", "American cheese product" or other similar labels, and since they are not actually calling their products "American cheese" it is allowed. Most people simply do not know the difference and think that they are all simply forms of American cheese. People from other countries, who have never even had a chance to discover true American cheese, see these other products in their countries with those confusing labels and assume that that is American cheese, and it is gross! Americans know nothing of cheese! What a tragedy this misunderstanding is.
I wonder, why do other countries sell fake American cheese and not the real stuff? I can only guess, but perhaps it is because the cheap fake stuff is made by huge global corporations (Kraft, mainly), and real American cheese seems to be made by smaller mostly American based companies (Land O Lakes, Boars Head, Cooper, etc). Perhaps it even has something to do with the way it is sold. You do not buy American cheese in a factory package. Occasionally grocery stores will pre-slice it and package it up to display in a deli refrigerator, but it is pretty much always sliced to order at a deli counter from a large block (never EVER sold in individually packaged slices!). The texture of the cheese usually doesn't lend its self well to pre-slicing because it can often be a bit crumbly. If Canada is any indication, I suspect that cheeses being sold at deli counters is fairly rare outside of the USA. They probably tend to focus on meat, and leave cheese to cheese sections of the grocery stores and separate cheese shops. The reputation of American cheese, due to the nasty knock offs, may have at this point made it impossible for the smaller companies to ever introduce American cheese to other countries, especially with the other obstacles I have mentioned. Again, this is all speculation.
So, you may be asking, what is American cheese? How similar is it to those other cheese products?
First I want to mention that there are many cheeses made in America. These include soft, hard, aged, and fresh varieties which are perfectly respectable cheeses. These are "American" cheeses (Colby and Monterey Jack for example). They are not the focus of this article. I am not talking about cheese in America. I am only talking about one kind of product that is known as "American cheese".
Many have asked me if it is "real cheese". The answer is yes and no. It is not a cheese in its own right, rather, it is made out of real cheese. The exact cheeses used to make it vary by brand and that is why the flavour and texture varies by brand. Yes, there are fillers and emulsifying agents, and it is "processed". I am not claiming that this is a gourmet food that is as pure as a virgin strawberry, whatever that is, but it is not simply CRAP like those other products. There are standards. Some of them are outlined in the FDA regulations that I previously linked to. There are also good quality American cheeses and terrible ones. Some are made with better ingredients than others. You cannot judge it as a single entity. You have to look at how each company makes their version in order to judge whether or not it has quality. In contrast, "cheese foods", and the like, sometimes contain some real cheese, but not always; probably not even half the time. More often they are made with milk byproducts or oils or other ingredients and lots of fillers, fat, and lots of extra salt.
What does it taste like? Delicious! One sure sign that most people don't even know what it is, is that they always mention that American cheese has no flavour. Au contraire! While the flavour can vary depending on the brand, it typically has a recognizable flavour that is unlike any other cheese or cheese product. It has a saltiness to it, but not an over the top saltiness. The flavour is somewhat buttery. It also has a little bit of a tang to it, though over all the flavour can be classified as mild. To me, and this may just be because this was the most familiar cheese of my childhood, it tastes like the words "cheese" sounds. It is just ultra Cheeeesey. I am not good at describing flavours but I can tell you that I have introduced American cheese to a few people who scoffed at the idea until they knew the truth, and so far no one has hated it, and some have even really liked it. As I have mentioned, there are many brands and since each have their own recipe and level of quality, each has a unique flavor. Everyone (who understands what it is and likes it) has their favourite brand(s) and also has a few hated ones that they will warn you sternly not to make the mistake of buying.
One of the favourite things about American cheese for many people is its absolutely perfect velvety smooth melt. This is why it is the ONLY cheese for a simple grilled cheese sandwich. The smooth melted texture and zippy buttery flavour is glorious. Cheddar, mozzarella cheese, Swiss cheese, no other cheese comes close. Sure, they are classic, and totally delicious. They just have other applications that they are better suited for. They can also make very nice grilled cheese sandwiches, but American cheese wins this one. Kraft (Velveeta) has capitalized on Americans' love of creamy melted American cheese perfection by making a fat and salt lick that will melt to be just as smooth and creamy, in fact even a little MORE creamy. Make no mistake, these are two very different food items, even though they both share the quality of smooth, creamy, melted perfection, American cheese actually has real flavor to go along with it.
I am not sure how I learned about the difference between American cheese and products like Kraft singles, but I have always known from as early as I can remember that the packaged stuff is gross and the stuff from the deli is the good stuff. I took for granted that everyone knew that they were totally different products. The revelation that most of the people in the world, including many people in the USA, had this perfectly lovely food confused with fatty salt jello (Cheese food product) was quite a shock to me. Most of the world hates American cheese for the wrong reason. You have the wrong man! So from now on, unless you have tasted real American cheese, and simply do not like it, and unless the person that you hear putting it down is definitely talking about real deli American cheese and not packaged slices, please realize that you and they have a poor opinion of a totally different product, and American cheese might pleasantly surprise you if you gave it a fair chance. If you ever have the opportunity I recommend trying it on a burger, a grilled cheese sandwich, an egg sandwich, and a cold cut sandwich (ham, dried salami, anything you like). To a lot of people, "Cooper Sharp" is the best American cheese, though this one has a much sharper flavour than most other American cheeses. It is merely a matter of personal taste whether this is a good thing or a bad thing. "Land O Lakes" is a good basic American cheese. I also find that, at least in my experience in Pennsylvania, New Jersey, and New York, grocery store (generic) brands of American cheese tend to be decent. This is not a guarantee and it may vary greatly depending on where you are in the country.
So now I live here in Canada with no steady supply of American cheese. I must buy it a few pounds at a time when I visit the states and my mother in law brings me some from time to time after she visits family south of the border. I have had to learn to not rely on it as a staple, but to regard it as a precious occasional treat. I hope that one day the world will open its arms to a delicious food that is trapped within the borders of the USA. If people hate Kraft singles so much, why not demand real American cheese! Start a movement! Whatever you have to do to bring it to a deli counter near me!