Loading
Posts Tagged 'chickjen stock cubes'
Jump to Ingredients – Jump to Method – Jump to Printable Version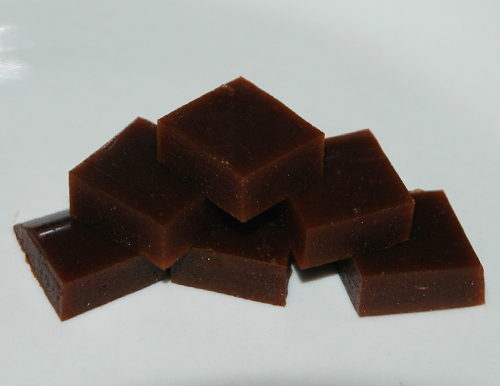 I never liked using bouillon cubes. The concept is great; to have little magic bullets of flavour on standby, ready to be tossed into anything that you are making is really convenient. The problem is, most commercial bouillon cubes are more salt than flavour, and a lot of them have the dreaded MSG as an ingredient. Also, unless you are careful you may end up with little salty clumps in your finished product, and that is never a pleasant surprise.
Years ago, I found a product that I preferred to bouillon cubes called "Better Than Bouillon". It is basically a salted demi-glace (or greatly reduced stock). This was a great find because it generally tasted better than bouillon cubes and always dissolved completely. They were still very salty, however, which wasn't really a problem as long as I was careful about adding additional salt to the recipe, but sometimes it is just too much for whatever it is being used for. Also, Though the package says "No added MSG" I have heard that this is a clever way of hiding the fact that there is some MSG in there, but I forget the explanation. I am not sure if this is true, but I would not be surprised.
My discovery of these stock cubes, however, preceded the revelation about the possible MSG in BTB, and came about, as so many of my eureka cooking moments do, because of my move to Canada. BTB is not impossible to find here, but it is very difficult. It was especially difficult in the beginning because I lived in an out of the way town with one little tiny grocery store that only had the very basics. Whenever I made chicken stock, I would reduce it down a great deal and then freeze it in ice cube trays, and use the cubes in place of bouillon. This was a very good solution because, being homemade, it was a lot healthier and it allowed me to control the salt content of my recipes more easily. The downside was that all those cubes take up a lot of freezer space and, if you don't use the cubes within around two months, they start to frost and get a "freezer flavour" to them. Also, Even though I reduced them a lot, there was still quite a bit of water in them, meaning that whatever I added them to would become more watery, which may or may not matter for the recipe, but sometimes the extra water gets in the way. I still make these chicken flavoured ice cubes if I know that they will be useful to me within about two months, but there are certain situations when you really just want to add chicken flavour without adding water. One day I decided to try to mimic Better Than Bouillon. I reduced a stock down to a very thick demi-glace kind of consistency, and added a lot of salt. I added the salt thinking that it would help preserve the stock so that I can store it in the refrigerator in a little jar just like BTB. But I was still annoyed by the salt. I thought to myself, why not just leave the salt out and freeze the demi-glace? The next time I made Stock that is exactly what I did. I froze it in a little plastic food container, similar to the one that I am using in this tutorial. When I took it out the only problem was that it was difficult to cut into little pieces because it was frozen. Also, after storing it in the freezer for a couple of months, it also frosts over because even though a demi-glace is very condensed, it still has a bit of water in it. Finally, I decided to simmer the stock past the demi-glace stage and remove as much water as is humanly possible. That was it! The perfect solution!
These stock cubes add unbelievable flavour your food. They keep practically forever in the freezer, take up no space, and don't even grow frost and get "freezer flavours". They are easy to handle too.  They are not sticky or gummy even at room temperature. In fact, since there isn't any water in them they are the same texture directly out of the freezer as they are at room temperature. They dissolve easily and perfectly when you cook with them. You just throw them in to whatever you are cooking and stir a little and in no time they are gone, and there is no extra water added to the recipe. They also add gelatin to your food, just like chicken stock does, since it is chicken stock, which is a very good thing! That is something you will never get out of a store bought bouillon cube or flavour powder packet! Of course you can also control the salt in the recipe with these since there is no salt. These are just so many thousands of times better in taste and in healthiness than bouillon cubes! I was so proud of myself for inventing these until I found out that this is a common trick done by professional chefs. Oh well, so it is a rediscovery, I can still be proud!
This is a method and not really a recipe. Amounts of all ingredients can be whatever you want them to be. All vegetables are optional. Some people like veggies in their stock and others don't. The only things you absolutely need to make these are water and chicken scraps. With the amounts that I used in the following tutorial I ended up with 16 approximately teaspoon sized stock cubes. If you read my regular chicken stock recipe you may notice a couple of differences, but that is because you don't have to make chicken stock exactly the same way every time. You can just as easily make stock cubes out of that, or any other stock recipe.
Click here for full post.
Wednesday
Nov 14, 2012