Loading
Posts Tagged 'home cooking'
Jump to Ingredients – Jump to Method – Jump to Printable Version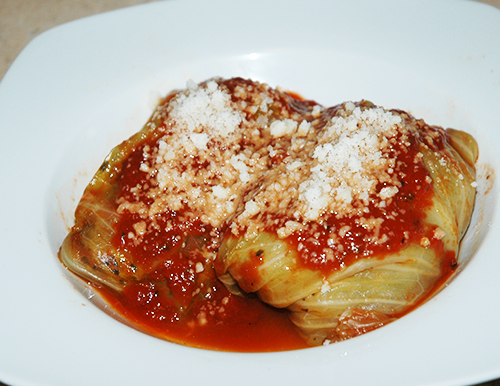 Does a halupkie by any other name taste as sweet? Absolutely! It seems like everyone has a different name for this dish. Some others include golabki, golumpkies, holubtsi, golubtsy, pigs in a blanket, or simply cabbage rolls. It seems to have originated as a Polish dish but most European countries have their own version, which is why there are so many different names for them, and the terms "pigs in a blanket" and "cabbage rolls" are some common American names for the dish. Whatever you call them, the basic idea is the same. Though there are many recipes with many variations, the basic idea is for minced meat mixed with rice and seasonings to be wrapped in cabbage leaves and cooked in a thin tomato sauce. Some people simmer them, some bake them, there really is no one right way. It is a very simple dish and it is really hard to go wrong when making them. I love them because they are so easy and quick to make, they look impressive, they are totally scrumptious, and they are really healthy! Trust me, if you were having intestinal problems, all that cabbage is going to scrub your system clean!
This recipe will yield about 12 halupkies. Two halupkies is a full meal, so you will get about 6 meals out of this recipe.
Click here for full post.
Thursday
Mar 14, 2013