Loading
Posts Tagged 'How to make your own bouillon'
Jump to Ingredients – Jump to Method – Jump to Printable Version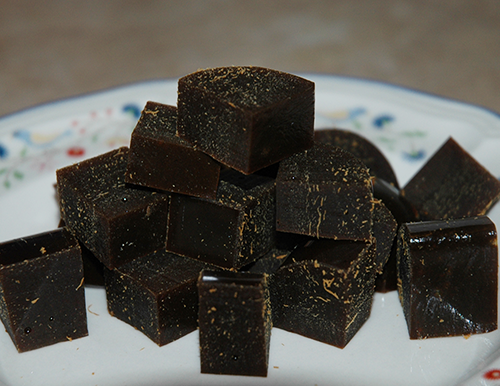 In my last article I shared my recipe for beef stock. Now I am going to tell you how to turn that beef stock into handy stock cubes that you can make and use instead of store bought stock (or bouillon) cubes. This is the perfect solution if you have extra stock that you are not going to use right away. Sure, you can just freeze the liquid stock in ice cube trays and have a ton of frozen stock cubes. I do this all the time as well! They have their uses for sure. But making the kind of cubes that I am making in this article has benefits also.
There is no water in them, so your cooking is not diluted when you add them. Sometimes you want to add water, sometimes you don't. When you don't, use these!
They last practically forever in the freezer and never EVER  get freezer burn, unlike frozen liquid stock. I have a suspicion that they would be safe to store at room temperature (since they are solid at room temperature, and actually are the same texture frozen or room temperature), but I am not going to try it until a food safety expert verifies my suspicion. Anyway, they take up very little room in the freezer so it is no problem to tuck them in there wherever you can, even if your freezer is packed full. Frozen liquid stock cubes take up a lot more room.
These stock cubes naturally contain no salt, unlike their store bought counter parts. This, I find desirable because then you can control the salt content in your cooking more easily. They also dissolve much more easily, removing any possibility that there will be a big salty chunk of "flavour" lurking in your dish waiting to surprise who ever is unfortunate enough to spoon it up. They also add gelatin to your dish, which is always desirable for it's health benefits as well as the richness it adds to the texture of the food.
You can make these with whatever amount of leftover stock you have, though around 2 cups is probably about the minimal amount that would be worth the trouble. I do not usually use a whole batch of stock, but I made the last batch of beef stock specifically for this purpose. It was about 2 quarts worth and I ended up with 16 approximately teaspoon sized stock cubes.
Click here for full post.
Sunday
Apr 14, 2013