Loading
Posts Tagged 'soft whole wheat bread'
Jump to Ingredients – Jump to Method – Jump to Printable Version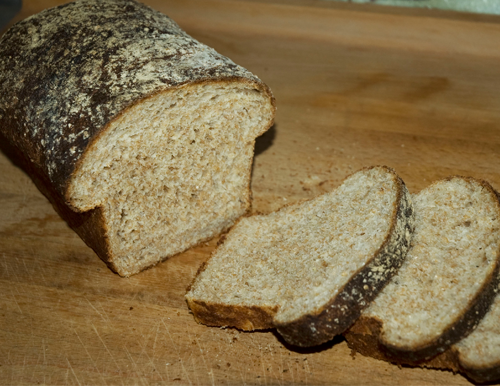 This is a recipe and method adapted from one of the recipes in Peter Reinhart's The Bread Baker's Apprentice.
Making good whole wheat bread is quite different than making white bread. Technically, you can follow a similar method as when making white bread if you want. You will end up with bread. But the texture will not be beautiful and the flavour will be flat. Whole wheat bread needs love. It also needs time. This recipe takes a minimum of 11 hours from start to finish.
Though it requires patience, you will find that it is worth it! I have never tasted such a delicious whole wheat bread in my life and doubt anything can top it. It is rich, dense, moist, and the flavour is so complex, yet not overbearing in any way. This is absolutely perfect bread for any application you would normally use whole wheat sandwich bread for and more.
You can also shape this dough in any way you want. So you can make rolls, baguettes, garlic knots, or whatever possible shape of bread you want! Eventually I will post more bread shaping articles for which you can use either my white bread dough or this dough, but you don't really need to wait for me. Go ahead and experiment!
This recipe will yield one loaf of bread. Depending on how thickly you cut the slices you should get around 10 to 12 slices of bread from the loaf.
Click here for full post.
Sunday
Jun 1, 2014