Jump to Ingredients – Jump to Method – Jump to Printable Version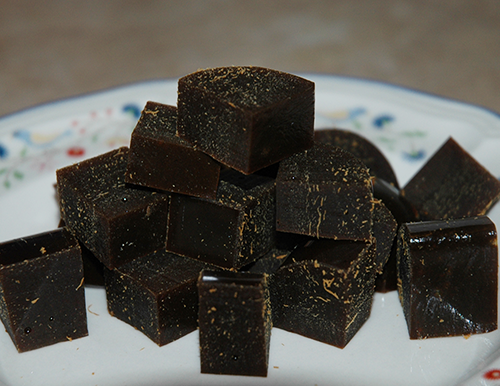 In my last article I shared my recipe for beef stock. Now I am going to tell you how to turn that beef stock into handy stock cubes that you can make and use instead of store bought stock (or bouillon) cubes. This is the perfect solution if you have extra stock that you are not going to use right away. Sure, you can just freeze the liquid stock in ice cube trays and have a ton of frozen stock cubes. I do this all the time as well! They have their uses for sure. But making the kind of cubes that I am making in this article has benefits also.
There is no water in them, so your cooking is not diluted when you add them. Sometimes you want to add water, sometimes you don't. When you don't, use these!
They last practically forever in the freezer and never EVER  get freezer burn, unlike frozen liquid stock. I have a suspicion that they would be safe to store at room temperature (since they are solid at room temperature, and actually are the same texture frozen or room temperature), but I am not going to try it until a food safety expert verifies my suspicion. Anyway, they take up very little room in the freezer so it is no problem to tuck them in there wherever you can, even if your freezer is packed full. Frozen liquid stock cubes take up a lot more room.
These stock cubes naturally contain no salt, unlike their store bought counter parts. This, I find desirable because then you can control the salt content in your cooking more easily. They also dissolve much more easily, removing any possibility that there will be a big salty chunk of "flavour" lurking in your dish waiting to surprise who ever is unfortunate enough to spoon it up. They also add gelatin to your dish, which is always desirable for it's health benefits as well as the richness it adds to the texture of the food.
You can make these with whatever amount of leftover stock you have, though around 2 cups is probably about the minimal amount that would be worth the trouble. I do not usually use a whole batch of stock, but I made the last batch of beef stock specifically for this purpose. It was about 2 quarts worth and I ended up with 16 approximately teaspoon sized stock cubes.
-Ingredients-
Obviously you must use real beef stock made from bones. It absolutely must be gelatinous or else it will not work. The gelatin is what forms the body of the cubes. Without gelatin present you will simply simmer down the liquid and be left with a sticky slurry of "beef flavour" but with no texture. No body. Maybe this is how they make store bought bouillon cubes, and maybe that is why they have to put it into salt cubes. Just speculation.
Anyway, you can make any beef bone stock you like, whether it is your own recipe or mine. Just make sure that before you begin, you have removed all of the fat.
The beef stock in the animation below is chilled and nice and jiggly due to the gelatin, and practically all of the fat has been skimmed off. It is ready for use in this recipe.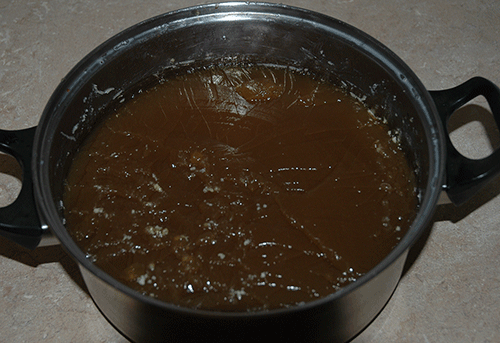 -Method-
Boil the stock on a medium high heat to let water evaporate. If you notice any foam or scum you may skim it off if you like, but I usually don't bother. It will take a while to reduce, so check on it every few minutes and give it a little stir and scrape the bottom of the pot just to make sure that it isn't sticking. It usually doesn't.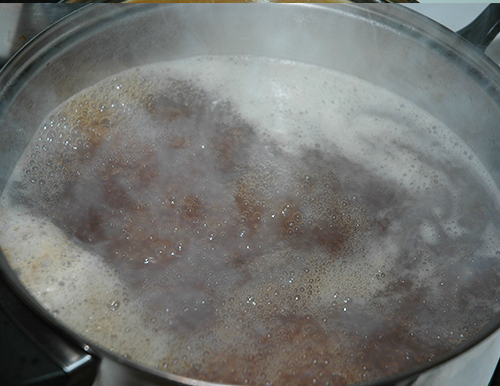 When it is reduced about three quarters of the way it is called a demi-glace. This is a common base for sauces in fine cooking. It tastes and smells very strongly of beef and has a little body to it. You could stop at this point and proceed with setting the cubes, but if you do so, you will have to use the cubes within a few weeks or else they will begin to develop freezer burn. Your goal should be to remove all water. This will prevent any ice crystals from forming at all and your beef stock cubes will basically be immortal.
At this point you may want to turn the heat down and maintain a steady simmer. You should also stay with the pot and stir it more often than before. Your two goals at this time is to evaporate the water, and prevent the stock from burning on the bottom of the pan. So cook it at whatever temperature feels right. I typically turn the heat up and down by feel, so I cannot dictate exactly how to do it. Just keep in mind that it does not burn extremely easily so do not think that this is an extremely delicate process. Still, remember that it CAN burn, so just be reasonable about monitoring it and keep the heat to something that you can handle.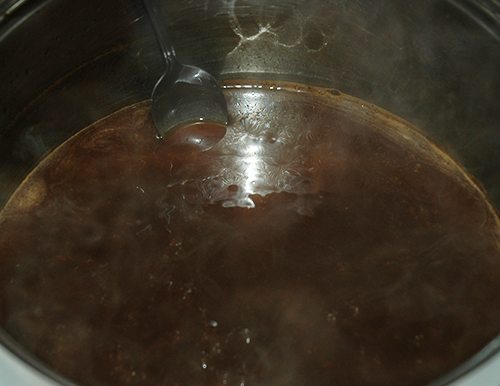 It will continue to reduce and will become extremely thick, like caramel. The sign that it is finished cooking is when there is absolutely no steam left. You may be tempted to stop before this point, but do not. Keep on simmering and stirring until all steam ceases. This tells you that all water is gone.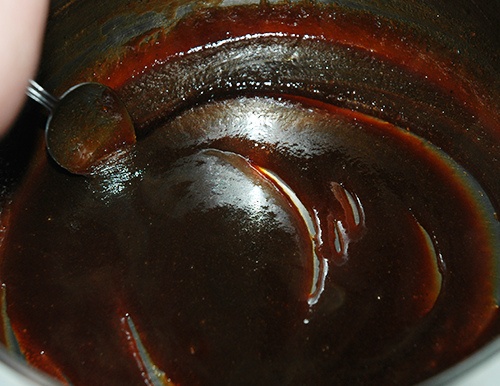 Have a mold ready to pour the stock into. Anything that will form it into some kind of regular shape and you will be able to remove the set stock from. I use a very small plastic food container (that is designed to hold hot items). The moment you remove the pot from the heat, the stock is going to start setting. You must pour it into the mold as quickly as you possibly can.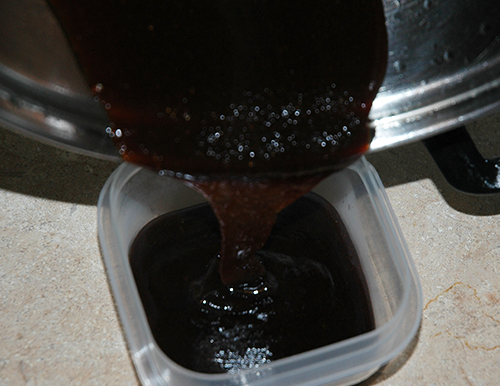 Put it into the refrigerator or freezer and give it about an hour to set up completely (though it probably takes much less time than this. I just usually forget about it for a day or so.). Anyway, as soon as it hardens you can remove it from the mold. What you have now is a solid slab of beef flavour and gelatin. It may feel like a hard piece of plastic, or it may feel like bouncy rubber. I do not know what causes it to feel one way or the other, but both are fine. Today it feels more like hard plastic.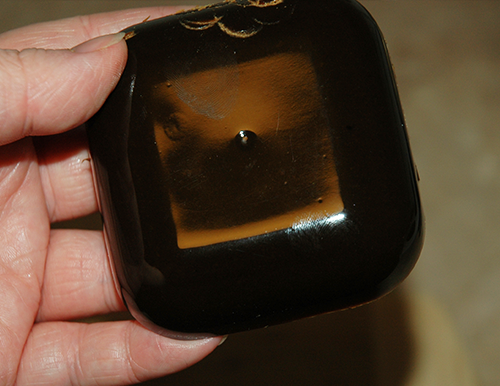 Even if it feels like hard plastic it will still be pretty easy to cut. Cut it into portion sizes that work for you. I like to cut it into approximately teaspoon sized chunks. Each one can substitute one store bought bouillon cube in recipes (along with salt).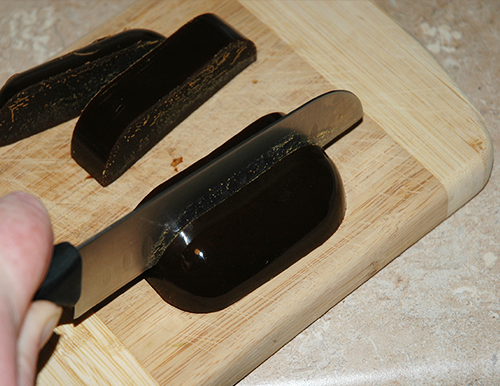 They are solid and stable at room temperature. They will not melt in your hand at all. They will, however, easily dissolve as soon as they are added to hot food.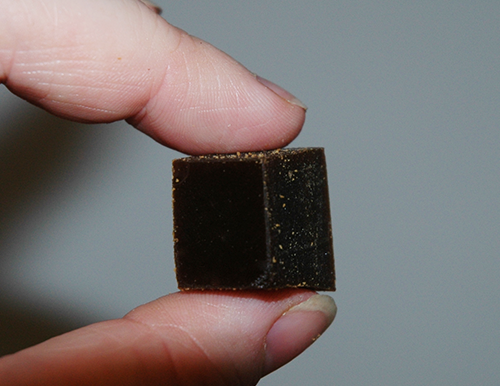 I store them simply by placing them into a bags and tossing them in the freezer. As I have stated, they last for practically forever. I do not know if there is a limit. They will never get freezer burn and as far as spoiling, I can't imagine how they would even begin to try.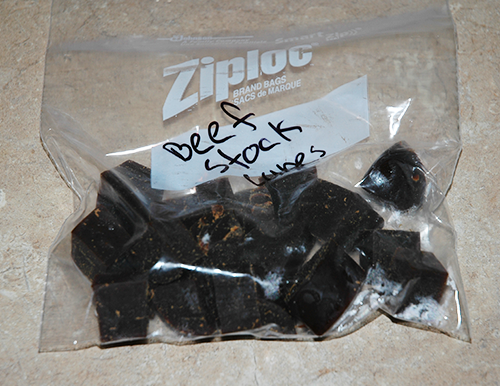 I will use these stock cubes in recipes on this website. You may usually use store bought stock cubes if you prefer, but keep in mind that you must take the salt into account. Also, I think that these provide far superior flavour and texture, so keep that in mind.
-Printable Version-
BEEF STOCK CUBES
Ingredients:
Beef Stock (any amount over two cups)
Method:
1. If there is any fat on the stock, skim it off.
2. Boil the beef stock until it is greatly reduced into a demi-glace. Stir occasionally and don't let it burn to the bottom of the pan.
3. When the demi-glace stage is reached, stay with the pot and stir pretty regularly while keeping the heat high enough to reduce the water steadily, but not enough to burn the stock. Stirring it constantly will protect it from burning.
4. It is ready when it is very thick, like caramel, and when there is no more steam. At this point pour it immediately into a mold and put it into the refrigerator or freezer for about an hour to set.
5. When it is hard remove it from the mold and cut it into usefully sized chunks. (I aim for about teaspoon sized cubes)
6. Store the beef stock cubes in a bag in the freezer and use in place of store bought bouillon cubes, along with salt, in recipes.