Jump to Ingredients – Jump to Method – Jump to Printable Version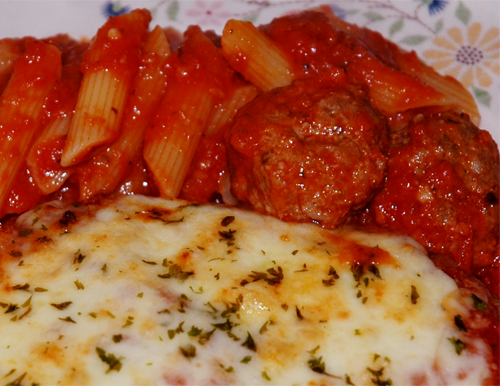 My mother calls it gravy. Yes, I come from a "gravy" family.  I cannot go along with this tradition. It is sauce to me. Gravy is pan drippings or stock thickened with a roux. Sauces are made from a wide variety of ingredients, fruits being one option. Sorry, Mom.
Though we disagree on the name, we agree about everything else on the subject of tomato sauce. When I was learning how to cook this was one of the first things I wanted to learn how to make. I, and everyone else who ever tasted it, always admired my Mom's, really the family's, amazing tomato sauce. What a nice surprise it was, to learn how easy it is to make. The secret is mainly in the technique, which is mostly about patience, and quality of the ingredients, rather than quantity of them. The simplicity is partly what makes it so special. It's all about enhancing the flavour of the tomatoes by complimenting them with ingredients that support, and do not overpower their flavour, and simmering the sauce for a long long time. Yes, we are those people who believe that a worthy sauce has to age into its full potential. There are those who think that a wonderful sauce can be made within an hour. This has never been proven to me. A quick sauce in my opinion is simply flat.  Not only should a sauce be simmered for hours, but it should be chilled and allowed to sit in the refrigerator for at least 8 hours, then be brought back up to heat before serving. It is only after this rest that all of the flavours truly combine. So when you decide to make this sauce, start the day before you intend to eat it.
I am not really sure how many servings this recipe makes. How do you measure a serving of sauce? Some people like a lot and some people only use a little. I like a lot of sauce and I suppose I could serve up around 10 good sized plates of pasta with a generous amount of sauce on it with this recipe, but this is only a rough guess. Even if you are cooking only for yourself or a couple of people, this is the smallest batch of sauce you should ever make. It freezes well and has lots of uses so even if you do not think you can eat it all within a couple of days you can always freeze it for later.
-Ingredients-
6 28 oz cans of Tomatoes (or about 12 pounds of fresh tomatoes, peeled)
Use whole, canned tomatoes, free from any flavourings, though if there is a small amount of basil in the can it is ok, just try to avoid it if you can. You will be adding basil to the sauce and what you add is all that the recipe needs. So if all you can find is a good tomato with basil added, lessen or omit the rest of the basil from the recipe. Now, I cannot stress the importance of using the right tomatoes enough. This is the single most important part of this entire recipe. The whole point of this recipe is to bring out the full flavour of the tomatoes, so yucky, bitter, or flavourless tomatoes will lead to yucky, bitter, or flavourless sauce. Canned, or fresh tomatoes are fine. They simply must have a great flavour.
By the way, you may notice that there is no sugar or carrots or other sweetener in this recipe. The addition of these kinds of ingredients are strictly forbidden when you are making this sauce. These ingredients are only included to mask less than stellar tomatoes. Bitterness or acidity should not be a problem and if you do feel the need to add some kind of sweetener to your sauce to mask such things, you have used the wrong tomatoes and the sauce is already a failure.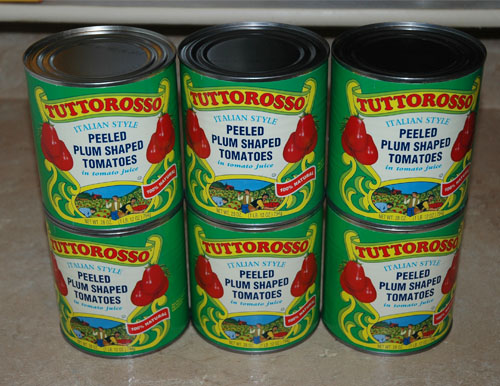 2 or 3 cloves of crushed Garlic (or a tablespoon of jarred minced garlic)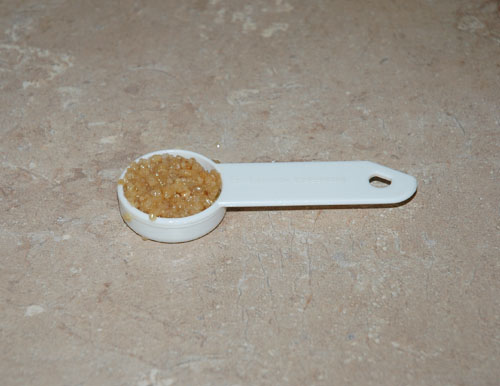 2 tablespoons Extra Virgin Olive Oil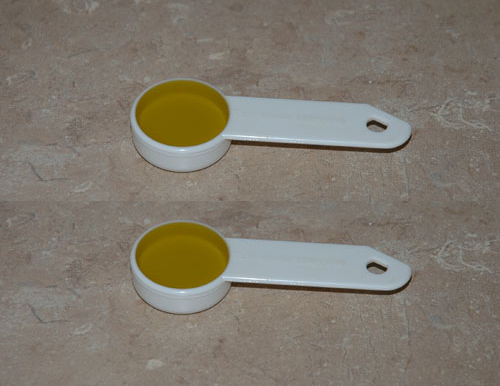 1 cup Romano Cheese
Pecorino Romano if you can muster it.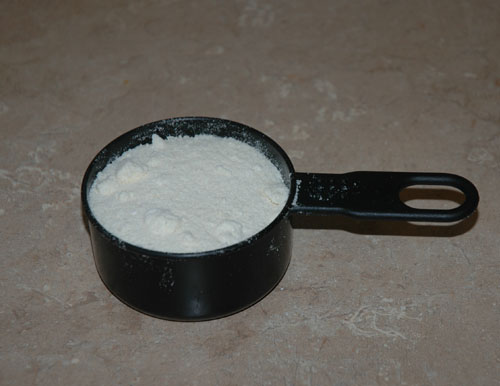 1 teaspoon Oregano
Fresh or dried and chopped finely.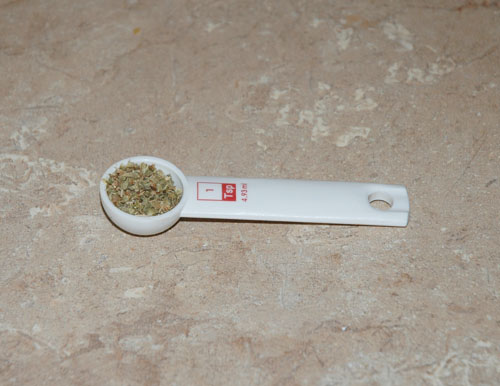 1 teaspoon Basil
Fresh or dried and chopped finely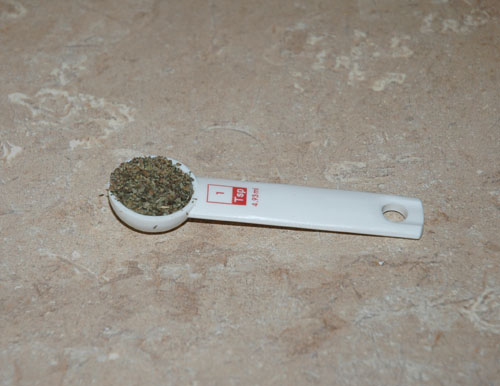 1 Teaspoon Parsley
Fresh or dried and chopped finely.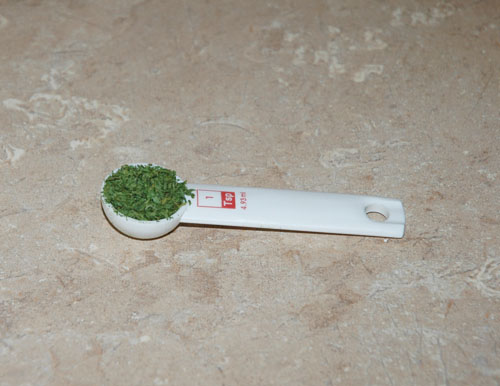 Bone
We treat our sauce kind of like soup in that we simmer a bone in it to extract the deep savory flavours from it. Just think about what a bone does to water, like when you are making stock, it will do the same for your sauce. Not only will it add succulent flavour but the collagen will add richness. This is one of these special ingredients that gives the sauce a certain je ne sais quoi. Today I am simply using two chicken legs that are frozen. It is perfectly fine to add the chicken legs to the sauce while still frozen, it will be simmering long enough to thaw it and cook it through completely. You can use bones with meat or without meat. Our thought is, the more meat simmering in your sauce, the better. You can use chicken bones, ribs, beef stew bones, or just about any kind of bone you wish. Feel free to use a couple of each if you wish. Make the equivalent of about two chicken bones the minimum, but you can use much more bones if you want to.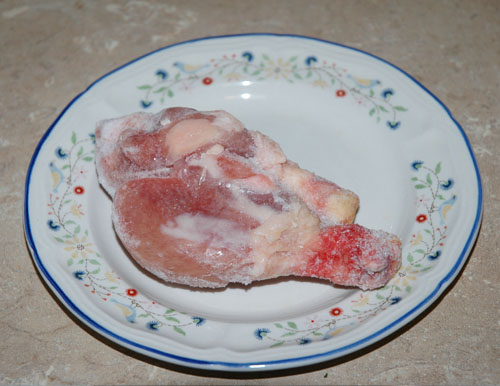 Meatballs
Technically you can make the sauce without meatballs, but why waste an opportunity for meatballs!? Meatballs are important to make with the sauce not only because nothing beats meatballs and tomato sauce, but the meat adds flavour to the sauce. More meat, more flavour. You can find the recipe for my meatballs here. One or two batches of those meatballs should be added to this quantity of sauce.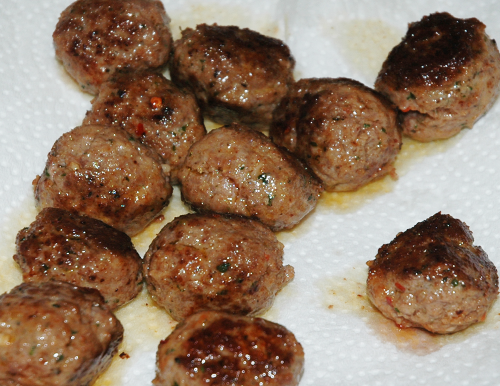 Italian Sausage
You can use hot and/or sweet sausage. I tend to just use hot sausage because I like it more, and the spices in the sausage season the sauce so nicely. A lot of people put red pepper flakes into their sauce. I am against this behavior. A little bit of zip is good to add, but I prefer to let the flavour of the hot sausage leach into the sauce to add subtle spice to it. Please keep in mind that this will in no way make the sauce spicy (as in hot on the tongue), it just adds flavour. One to two pounds of hot and/or sweet sausage is a good amount for this recipe. When I am cooking for myself I usually just add one pound of hot sausage, but if I am cooking for people who I know don't like spicy food I add a pound each of hot and sweet sausage so that they can have some sausage too.
Be sure to find a sausage that tastes good. Italian sausage can be wonderful or quite horrible. When I moved to a new city a few years back I was shocked to find that in my new area, Italian sausage was a whole different concept. A concept that I did not enjoy. Depending on where you live, and if the cuisine in your area is not very Italian inspired, you may have a hard time finding a worthy Italian sausage. One thing I look for in my hot Italian sausage is for the fennel to be ground up and not visible as large seeds. finding this quality in a sausage does not guarantee that it will be a good one, but this is one thing that I definitely prefer. It affects the whole mouth-feel and I do not like getting those big bursts of fennel flavour as I am chewing. I like it to be evenly distributed. If you do not have a sausage that you know you like, you may have to do some research and try a few kinds to try to find one that tastes good to you.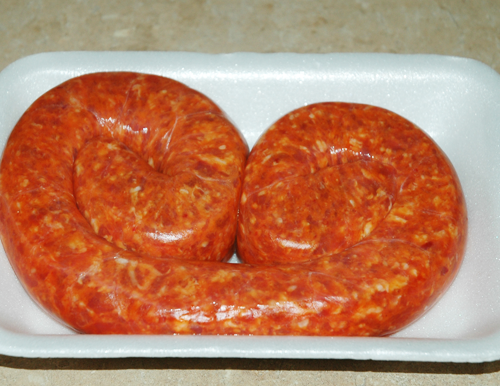 -Method-
Put some of the tomatoes into a blender, as many as you can fit without over filling the blender, and blend well. Completely liquify the tomatoes. It usually just takes about 10 seconds to blend them sufficiently. This is not a sauce with big chunks of tomato in it. It is thick, but smooth.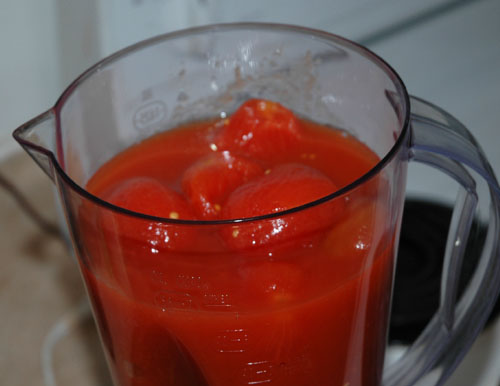 You can blend all of the tomatoes a couple cans at a time right now if you want to, and keep them in a big bowl or some container for now, just don't put them into the cooking pot yet. There is no reason to do this though. Why waste a bowl? You want to have at least some of the tomatoes ready to go before you start the next step and it will be easier to just blend a can or two and pour it directly from the blender into the pot, then blend more and pour etc.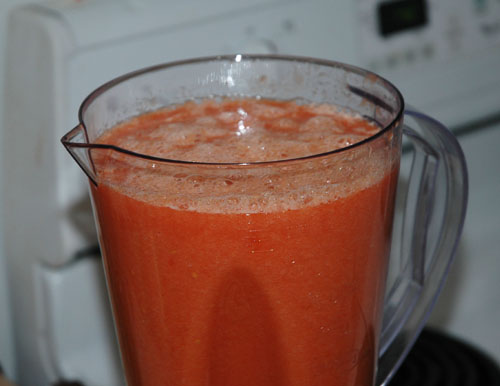 Put the 2 tablespoons of extra virgin olive oil into a big pot and put the heat up to medium low. Give it a minute to heat up and then add the tablespoon of garlic. Gently saute' the garlic and let it become translucent. Do not brown it. You only want to soften it and let it sweat into the oil a bit.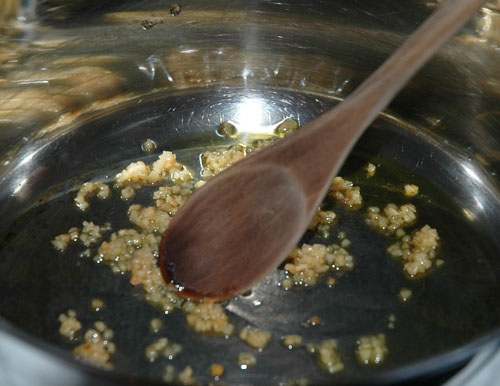 After lightly sauteing the Garlic for a minute or two, pour in your blended tomatoes. This will stop the garlic from browning and give you time to blend the rest of the tomatoes and add them to the pot. Be familiar with the characteristics of your tomatoes. If you are using ones that are very seedy, you should sieve out the seeds as you add the tomatoes to the pot. Tuttorosso is the kind that I was using for this batch and it is not necessary to sieve the seeds out from this brand. So add all six cans of tomatoes to the pot after blending and, if necessary, deseeding.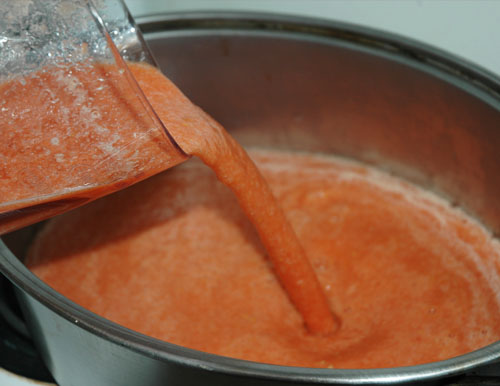 Turn the heat up to high and add to the pot, 1 cup of Romano Cheese, 1 teaspoon Oregano, 1 teaspoon Basil, and 1 teaspoon Parsley.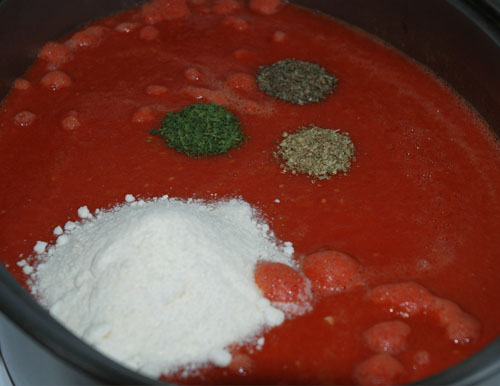 Stir everything together and continue to stir occasionally as the heat rises. You want to bring the sauce up to a boil. Be careful as it reaches boiling temperature because it will begin to spit. You can control this by stirring it pretty constantly.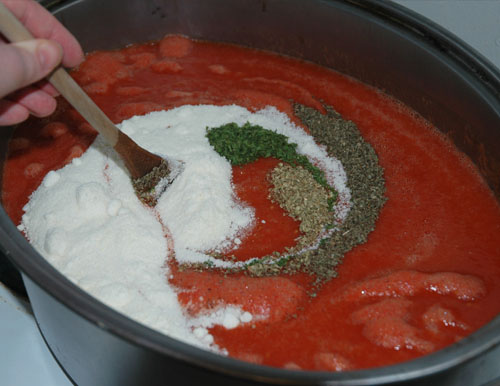 As soon as the sauce begins to boil add the bones.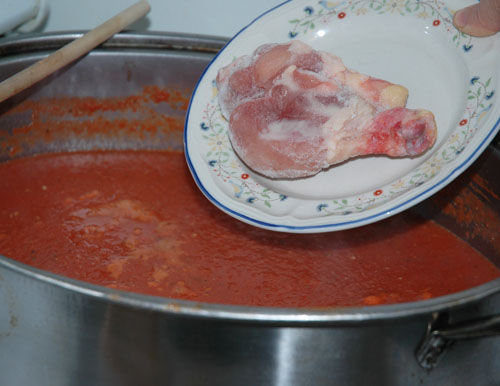 Let it boil for a minutes or so and then turn the heat way down to low. Continue to stir it as it calms down and bring it to a very gentle simmer. This (uncovered) simmer must be maintained for at least the next two hours before moving on to the next step. Stir the sauce every 15 to 30 minutes as needed. The heat should be low enough that there is little to no danger of the bottom of the pot burning the sauce, but you must still stir every now and then.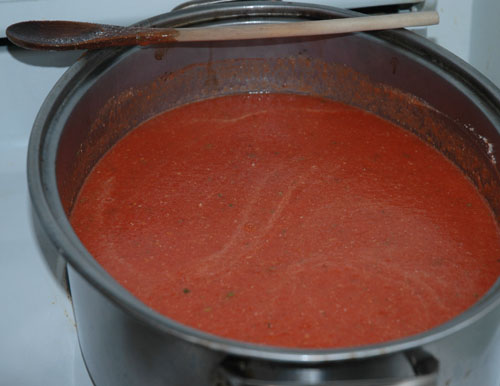 After about two or three hours of simmering, prepare your meatballs (recipe here) and add them to the sauce. (At this point, if you used a bone with meat, especially if it is a tender meat, like chicken, you may want to take the bone out so as to avoid getting lots of little chicken bits all throughout the sauce. You can just leave the bone out for the rest of the cooking process or you can just remove the now well cooked meat and return the bone to the sauce.)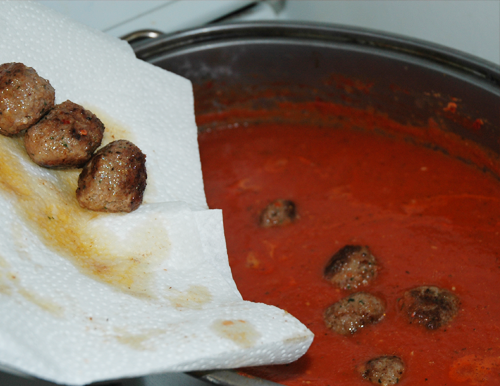 If your Italian sausage came in rope form, like mine did, cut it into pieces of whatever size you would like them. If yours are individually tied off sausages, I recommend cutting them in half or at least poking some holes in the casing so that the flavours from the sausage can get into the sauce.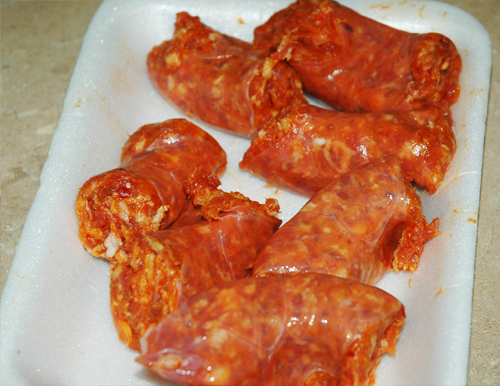 You can fry off the sausages a little, like you may have done with the meatballs, but like with the meatballs, this is optional. I usually just add the sausages raw.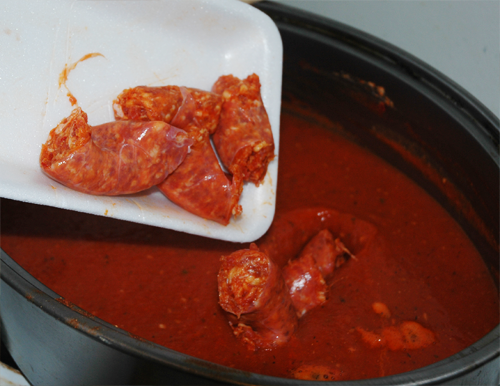 Now all that is left is to simmer the sauce uncovered for another 2, 3, or even 4 hours. The longer it simmers the thicker and richer the sauce will be. I typically go for a very long simmer. Stop when you like the consistency of the sauce. Remember that it will thicken further after it rests in the refrigerator. The rest is not optional in my opinion. You can of course safely eat the sauce at any time once the sausages and meatballs are fully cooked, but something magical happens after the chilling and resting process. The rest is the real secret ingredient.
Before you refrigerate the sauce, you must bring the heat down. The way I do it is to take it off of the heat for about 30 minutes. The sauce will now be very warm but not piping hot. Fill the sink about half way with cold water and dip the pot into it. Try to let the cold water come up around the outside of the pot at least as high as the sauce is inside the pot. Stir the sauce occasionally for about ten to twenty minutes while it sits in the cold water bath and the sauce should be sufficiently cool to place in the refrigerator safely.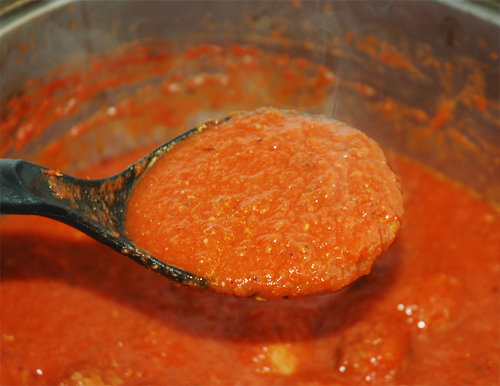 Here is the sauce after it has chilled overnight. It is much thicker, richer, and flavourful than it was about ten hours ago. It is a thing of beauty. You can now use it for anything that requires tomato sauce.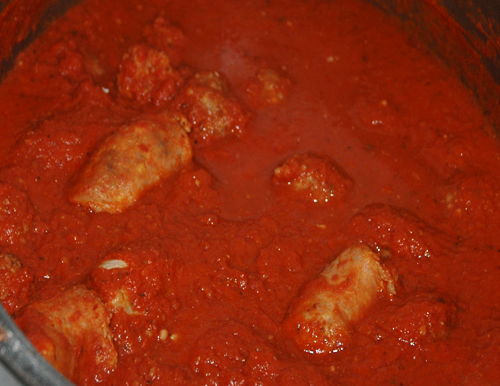 Here is some lovely chicken Parmesan (recipe here) and pasta that I made with it. Some things taste so good it should be illegal.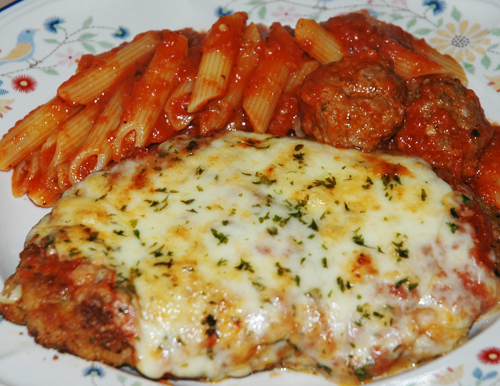 Use it to make an unbelievable lasagna.(recipe here)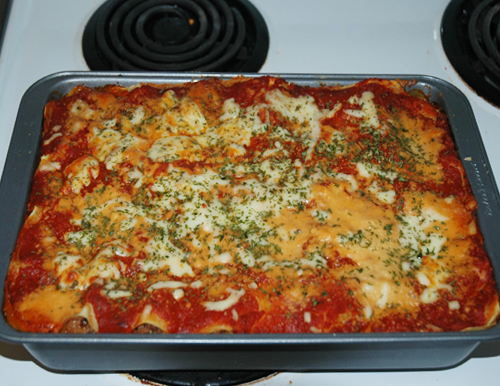 I top cheesesteaks with it.(recipe to come)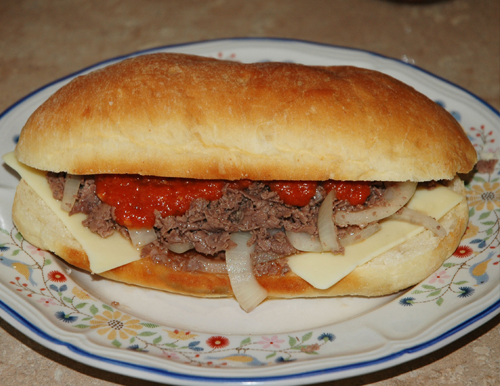 I even use it (slightly modified) as my pizza sauce(recipe to come). It only requires the addition of a few herbs and a little more reducing to turn it into the most amazing pizza sauce you can imagine.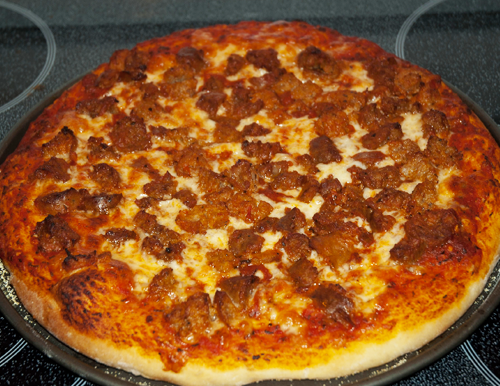 Or of course you can coat any kind of pasta you like with it and just eat it with the meatballs and sausage. I know it takes a lot of time, but this is home cooking at its finest!
 -Printable Version-
TOMATO SAUCE
Ingredients:
6, 28 ounce cans of whole Tomatoes (about 12 pounds of fresh tomatoes)
2 to 3 cloves crushed Garlic
2 tablespoons Extra Virgin Olive Oil
1 cup Romano Cheese
1 teaspoon Oregano
1 teaspoon Basil
1 teaspoon Parsley
Bone
Meatballs
Italian Sausage
Method:
1. Blend the tomatoes until liquified. About ten seconds a batch should be enough.
2. Saute the Garlic in 2 tablespoons of Olive Oil on medium low heat. Be careful not to brown the garlic. Just sweat it.
3. After sauteing the Garlic for a minute or two add the blended tomatoes to the pot (sieve out seeds if necessary) and bring the heat up to high.
4. Add to the pot 1 cup of Romano Cheese, 1 teaspoon Oregano, 1 teaspoon Basil, and 1 teaspoon Parsley.
5. Stir occasionally as the sauce comes up to a boil.
6. When the sauce starts boiling add the bones.
7. Let it boil for just a couple minutes to ensure it is nice and hot throughout, then turn the heat down to low, and bring the sauce down to a gentle simmer.
8. Simmer uncovered for two to three hours, stirring every 15 to 30 minutes as needed.
9. Prepare your meatballs and add them to the sauce.
10. Add the Italian sausage to the sauce.
11. Simmer, uncovered, for a minimum of two more hours, but feel free to continue as long as you wish until the sauce is the thickness you desire.
12. Cool the sauce and refrigerate for at least about 8 hours. Overnight is best.
13. When you want to serve the sauce simply heat it up on the stove and enjoy!