Jump to Ingredients – Jump to Method – Jump to Printable Version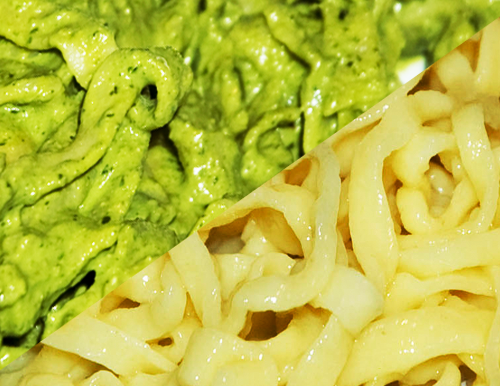 This is a recipe for a very simple, all purpose pasta dough. The resulting pasta is easy to cook, typically only taking a few seconds in the water, unlike dried pasta that can take 10 minutes or more. It has just the right mouth feel, perfectly al dente. It only takes about 30 minutes to prepare the dough, and most of that time is spent resting the dough.
Currently, I have no pasta maker, no machine to help me shape noodles. That is OK! They aren't necessary. I cannot make macaroni or ziti, or other tubular pastas yet, but there are many shapes of pasta that you can make with only your hands, or a knife, or cookie cutters. Without a pasta machine, the pasta is usually a bit rustic looking, but that only adds charm to the dish. I will provide you with instructions on how to cut and form various pasta/noodle shapes.
As I have already said, this recipe is simple, but it can be jazzed up in countless ways. Add a splash of white wine, or some cooked spinach, or tomatoes. You can even play around with the flour. For this basic pasta, a half and half mix of Semolina flour and white all-purpose flour creates what, to me is, a perfect texture. But there are times when I want a slightly softer pasta. For instance when I make ravioli or tortellini, I think that a softer noodle works best and I, therefor, substitute a second cup of all-purpose flour for the Semolina. You can also try using whole wheat flour. Making your own pasta is really a lot of fun and will allow you to be very creative with your cooking. In future recipes I will provide details on some of these and other mods, so keep an eye out for those if you want to try them and think you need more directions.
This recipe will yield enough dough for approximately six to eight servings of pasta. This serving estimation may vary greatly depending on the kind of pasta you are making.
-Ingredients-
1 cup Semolina Flour
Durum Wheat Semolina is a course flour that is a light yellow colour. It resembles very light and thin sand. It provides the pasta with a firm  texture and makes it stand up to longer cooking without becoming mushy. It is available in most grocery stores (the ones that I have been to anyway). If you cannot find it easily, you may need to find a nice Italian food store. They will have it.
If for some reason you cannot find it at all or just want a substitute, you can use a second cup of the next ingredient, white all-purpose flour. The noodles will be nice, but will have less texture, and you should be careful to cook them minimally in order to be sure they will be nearly al dente.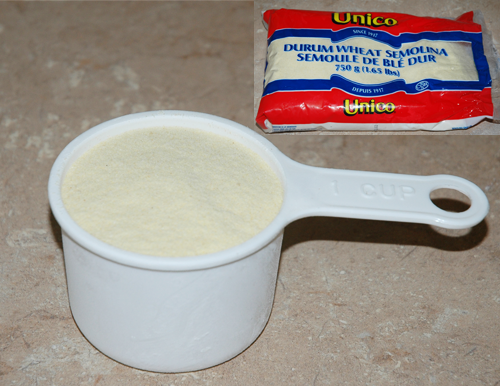 1 cup White All-Purpose Flour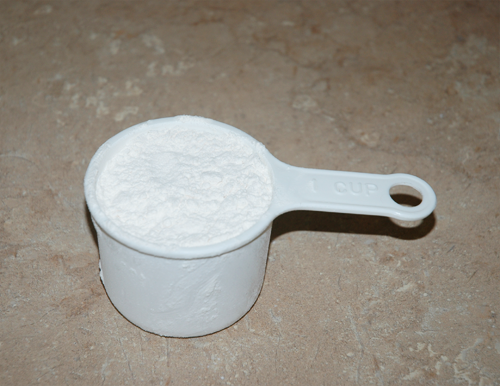 3 eggs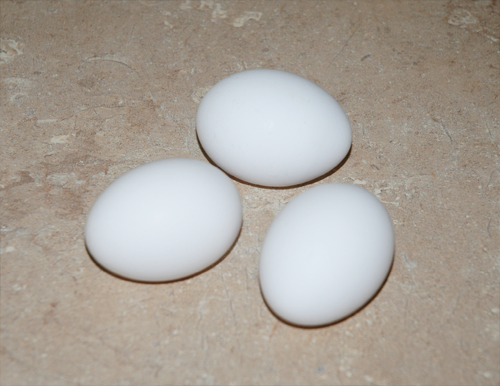 -Method-
In a bowl combine 1 cup each of semolina flour and all-purpose flour.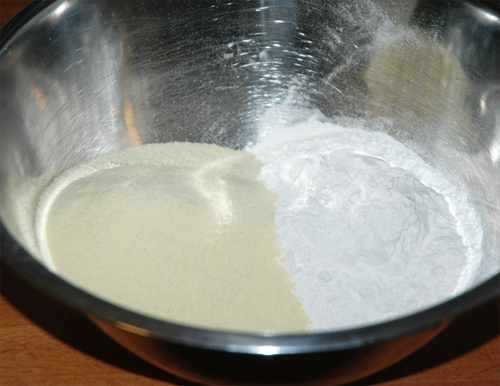 Create a well in the center of the flour and crack three eggs into the center.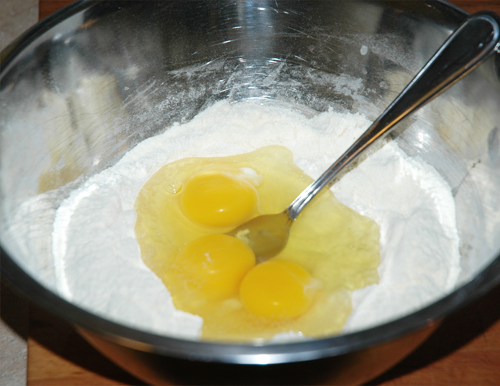 Use a fork to beat the eggs. Avoid the flour at first. Just get the the eggs nicely beaten.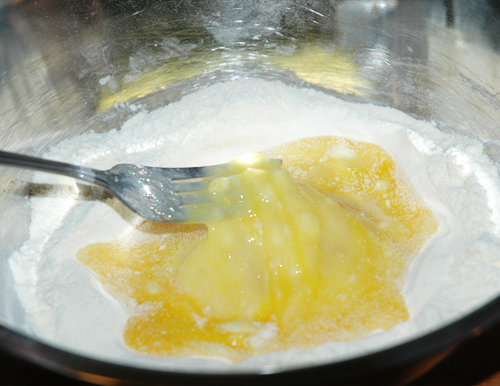 Slowly start incorporating a little bit of flour at a time, while constantly beating the eggs.
I turn the bowl a little every couple of seconds and beat constantly, allowing the eggs to stick to a little flour and draw it in little by little. You want the eggs and flour to mix into an even, creamy mixture.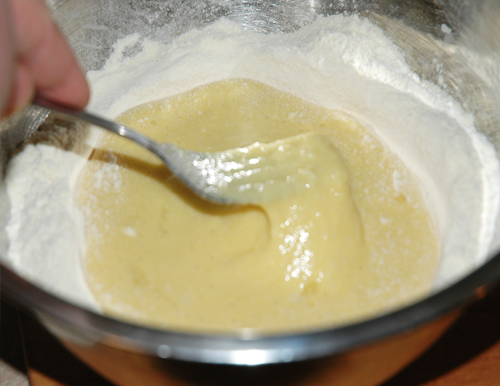 Soon the mixture will become too difficult to beat with a fork as it forms into a solid dough. It will still be a very wet dough at this point. Coat it well with flour. There will still be plenty of dry flour left.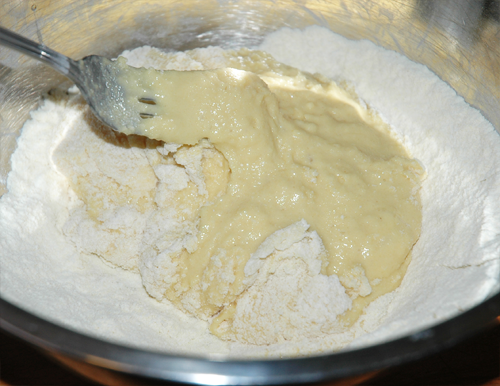 Dump the remaining flour along with the dough onto a work surface.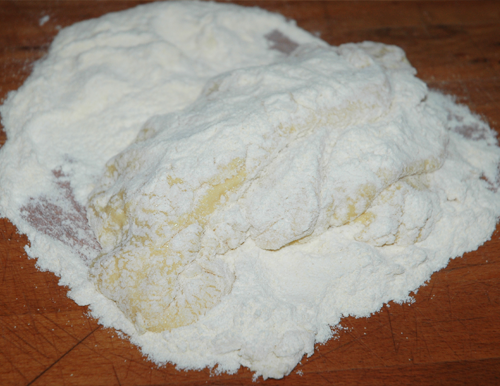 Knead the dough and incorporate flour as needed to form a firm and just slightly sticky dough. You may not have to use all the the remaining flour, or you might need a little more. It depends on various factors. You will know it is perfect when you can knead constantly without it sticking to your hands or work surface.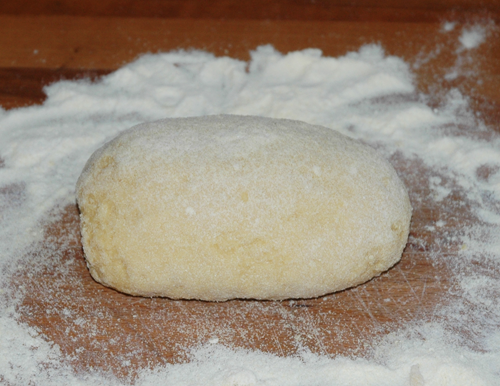 Wrap the dough in plastic or just cover with a damp cloth and let it rest for at least 20 minutes or up to 40 minutes at room temperature. If you desire you can refrigerate the pasta dough for as long as a day before you use it.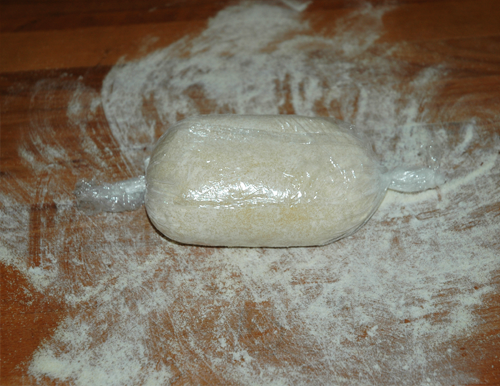 After the rest, the dough is ready to be formed into whatever shape of pasta you desire. Below you will find articles in which I will illustrate different things that you can do with this pasta dough.
-Printable Version-
PASTA DOUGH
Ingredients:
1 cup Semolina Flour
1 cup White All-Purpose Flour
3 eggs
Method:
1. In a bowl combine 1 cup each of semonlia flour and all-purpose flour.
2. Create a well in the center of the flour and crack three eggs into the center.
3. Using a fork, beat the eggs and slowly incorporate flour to create a creamy mixture. Continue in this fashion until the dough forms enough structure that it is difficult to continue beating with a fork.
4. Empty the bowl onto a work surface and knead the dough, incorporating flour as needed.
5. Continue to knead the dough until you form a firm and just slightly sticky dough.
6. Cover the dough and alow to rest at room temperature for 20 to 40 minutes.
7. The dough is ready to be used to make pasta.