Jump to Ingredients – Jump to Method – Jump to Printable Version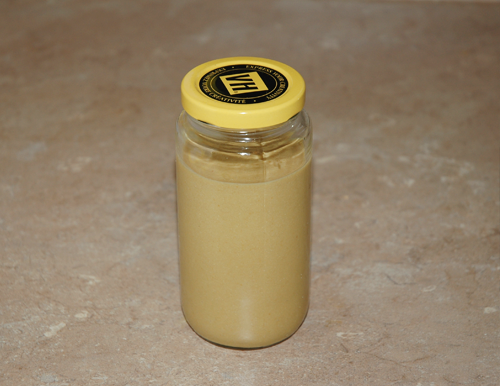 To make hummus, you need tahini. Well, some people make hummus without tahini, but I think that hummus without tahini shouldn't be called hummus, just mashed chick peas. Tahini is the secret ingredient that gives hummus its gloriously nutty undertones. Tahini is often sold in stores, but it is not available everywhere, so if you do want to make your own hummus and saw tahini as an ingredient you may think that you have run into a brick wall. Have no fear! If you cannot find it or if you have no clue what it is, you can make it yourself with this incredibly easy recipe.
Tahini has many other uses. It is used in various Indian recipes and even as a salad dressing. So far, the only use that I have for it is hummus, but this may change. I make a big batch because it lasts for a good amount of time in the refrigerator and I make a lot of hummus. This recipe is not an exact science. You can make as much or as little as you want, though, if using the blender technique, as I do, the more you make at a time, the easier it is to make the blender to what it needs to do. You can make this with a pestle and mortar if you prefer, but that would require a lot of elbow grease. This would allow you to make a much smaller amount, however, so just do this however you want! It is a very simple process.
This recipe will yield about two cups of glorious tahini.
-Ingredients-
2 cups White Sesame Seeds
You can make tahini with black sesame seeds, but the finished product will be more bitter, grainy, and of course black. This is not the classical tahini that most people think of but it is done and even preferred by some people. I recommend sticking with the proper white sesame seeds.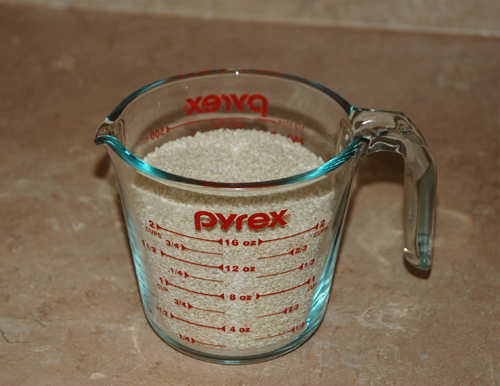 8 tablespoons Extra Virgin Olive Oil
Give or take. This is usually just about enough for two cups of seeds, but add a little more or less depending on how the seeds are blending. Also, You may substitute this ingredient with roasted sesame seed oil. I do this when I have it around. It really enhances the flavour. Either oil is perfect for this recipe.
By the way, eight tablespoons is equal to one half cup. Why do I call for tablespoons then? I don't know, it must be psychological because you are only to add a little at a time until you have just enough to allow the seeds to blend. This thought only just popped into my head after putting this recipe together so I figured I would mention it.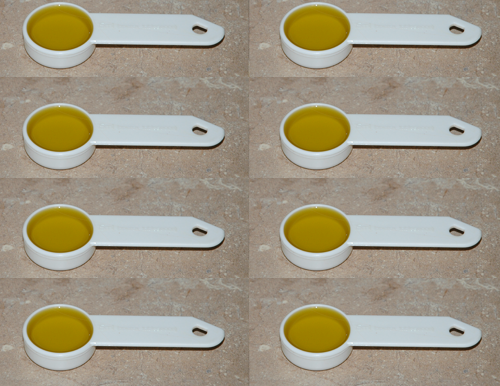 -Method-
First you must roast the sesame seeds. Preheat your oven to 350. Spread the seeds evenly on a baking sheet.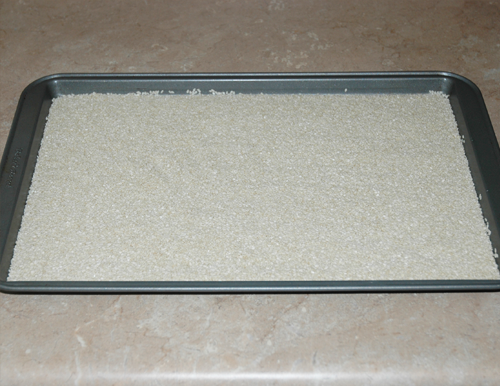 Place the sheet into the hot oven and bake for 5 to 10 minutes, stirring occasionally.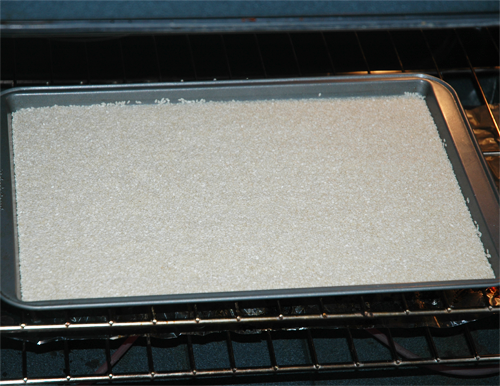 I like to stir them with a whisk. It mixes them up well without pushing them all over the place. Just stir them around every couple of minutes and watch as they quickly turn a golden colour.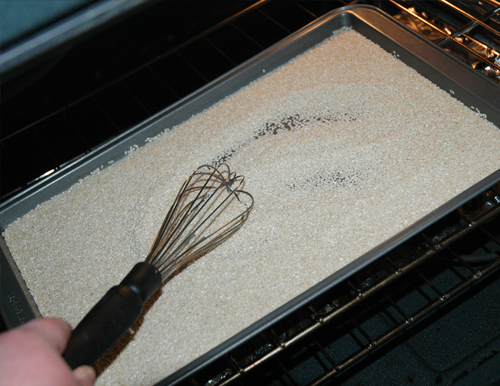 You do not want to brown them. Be sure to take them out of the oven when they are only a little golden. They will burn quickly if you are not careful.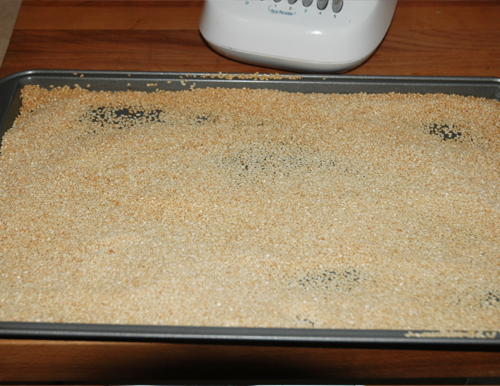 Let them cool for about 10 minutes and then place them into a blender.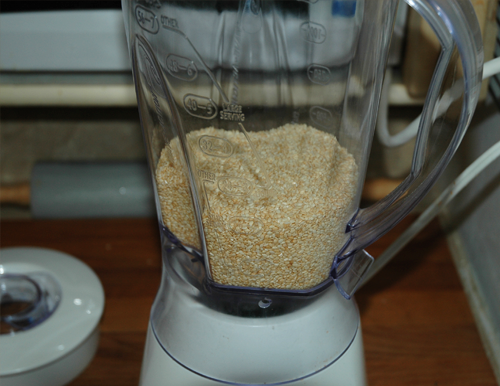 Add oil. Start with around 6 tablespoons or so. There really is no need to measure this ingredient. You are simply going to use just enough to let the blender blend the seeds into a smooth, creamy paste.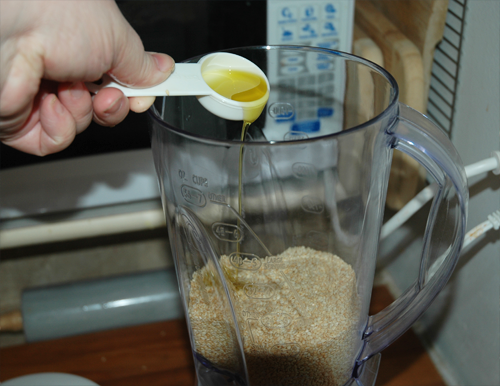 So, add some oil and start trying to blend. Pulse the blender at first. Pulse a few times and scrape down the sides. Add oil as needed to get things going and be careful not to add too much oil so as to make the finished product a thin liquid. This process take a little patience. Add a teaspoon to a tablespoon of oil at a time, pulse a few times, scrape, repeat. When it starts blending smoothly keep the blender on for a few seconds at a time, maybe ten or so, and scrape and repeat. Blend at high speed when it is able so that you can make it very creamy.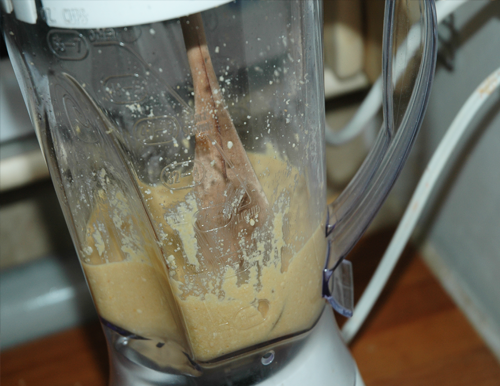 When there are no more visible seeds and you have a smooth, thick paste the tahini is done. It should resemble peanut butter (real peanut butter, not Jiffy). If the consistency is correct it will be a thick liquid that is pourable, but perhaps just barely, and will stick the the inside of the blender in a thick sheet, requiring you to scrape most of it out (I recommend a rubber spatula for this job). It will become much more solid in the refrigerator. *Note: Some blenders simply cannot blend the seeds into a  smooth paste. If you find this to be the case for you just do the best you can and then strain the tahini through a fine mesh strainer to get out the gritty bits.*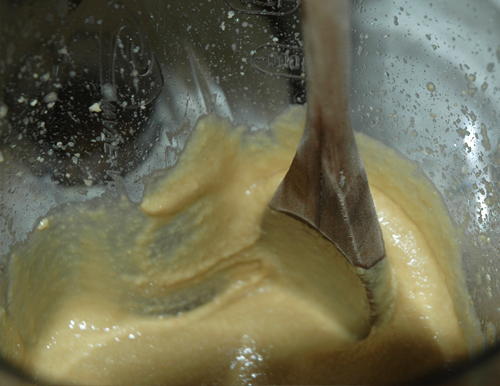 You can use the tahini immediately to make hummus (recipe to come), or you can store it in a jar in the refrigerator for up to two months. Keep in mind that when stored, the oil will settle in a pool on top of the tahini. This is good because it actually helps to preserve it. You will want to stir the oil into the tahini when you use it.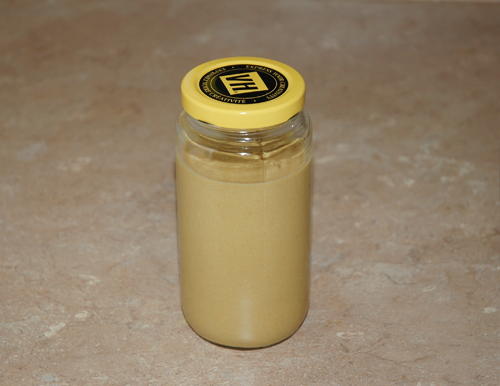 -Printable Version-
TAHINI
Ingredients:
2 cups White Sesame Seeds
8 tablespoons (approximately) Extra Virgin Olive Oil (or Roasted Sesame Oil)
Method:
1. Preheat your oven to 350.
2. Spread the seeds evenly on a baking sheet.
3. Place the sheet into the hot oven and bake for 5 to 10 minutes, stirring occasionally.
4. Remove them from the oven when they are a light golden colour.
5. Allow them to cool for about ten minutes.
6. Put seeds into a blender and add most of the oil. Sometimes it needs slightly less so start with less than 8 tablespoons.
7. Pulse the blender, scrape the side of the blender, and add a little oil at a time if needed to get the seeds to blend smoothly.
8. When they will blend smoothly, blend them at medium to high speed for about ten second intervals and stir each time. Continue this action until all visible seeds are gone and you have a smooth peanut butter-like paste.
9. Use immediately or store, covered, in the refrigerator for up to two months.