Jump to Ingredients – Jump to Method – Jump to Printable Version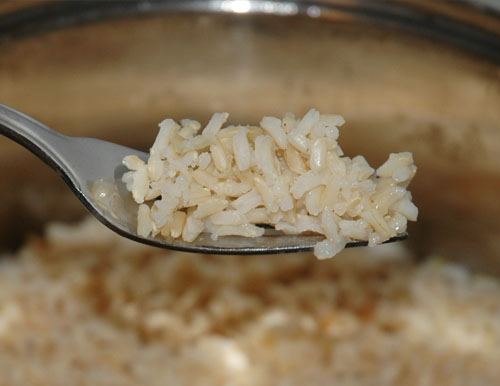 Brown rice is one of the most perfect foods on this planet. I eat it just about every day. Unfortunately, though, it is under appreciated by a lot of people. White rice has its uses and I do appreciate it for what it is (a yummy and basically nutritionally void junk food… like cake), but if you are going to eat rice in your meal, why not make it brown rice at least MOST of the time? Obviously its healthier by far, but  not only that; it actually fills you up and has texture and flavour. A meal can go from being junk food to incredibly healthy simply by substituting brown rice for white rice. One complaint that I understand people have is that brown rice doesn't keep as well as white rice. It is true that any whole grain will be more difficult to store than its over processed counterpart. This, however, I do not see as much of an argument for neglecting whole grains. Simply buying less at a time and storing it in an airtight container in the refrigerator will guarantee that you always have fresh rice. Another complaint is that brown rice is more difficult to prepare. Perhaps this is true, but brown rice is not all that difficult to prepare at all. Its just different than white rice. You cannot treat brown rice like minute rice and expect it to turn out well. You need to treat brown rice like brown rice and you will find it to be an ever so easy way to pack a huge punch of yummy healthiness into your rice dishes.
This is not really a recipe but more of a "how to". I'm simply showing you the technique of how to cook brown rice, but I'll treat this article like a recipe. Just remember that you can use this method to cook any amount of rice. The measurements that I am using in this post are just examples.
-Ingredients-
1 part Dry Brown Rice
So for this example I am cooking 1 cup of brown rice. The amount will obviously change depending on the amount of rice you want to cook. You can use more or less rice, just keep the ratio of rice to water the same. The rice I am using is a simple, long grain, no name brand of brown rice. Nothing fancy. This technique can be used with any kind of whole grain rice, be it short grain or long grain rice of any variety.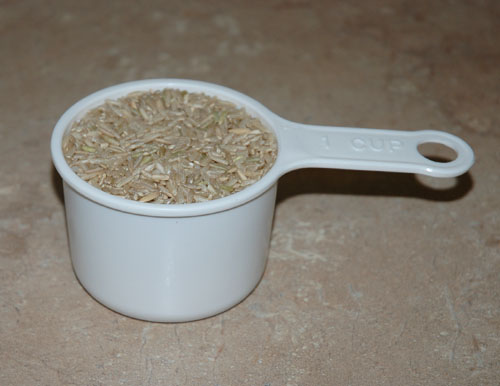 1 and 1/2 part Water
So since I am using one cup of rice I will use one and a half cups of water. If I was making two cups of rice I would use three cups of water. Use this ratio no matter how much rice you are making. You can replace water with stock to create incredibly flavourful rice.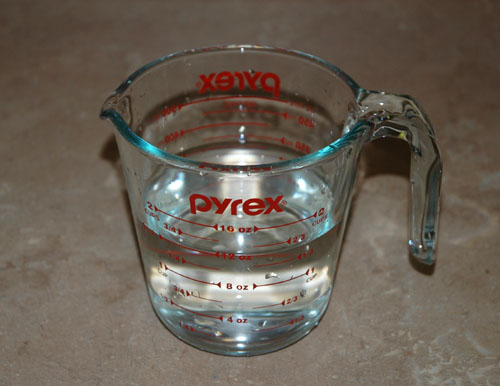 -Method-
Measure out your desired amount of rice and pour it into a medium to large sized pot.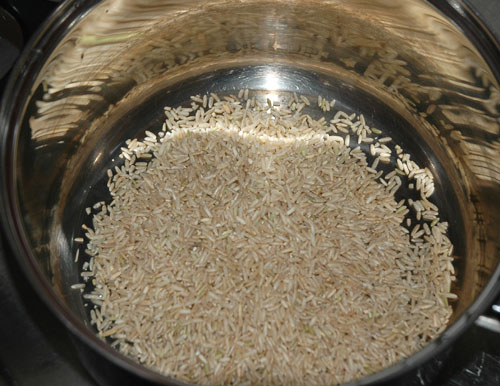 Now you must wash the rice. This step is vital. There is unwanted starch and impurities in the rice that will cause your finished rice to be a mushy mess if you do not wash it off. So add enough water to the pot to cover the rice.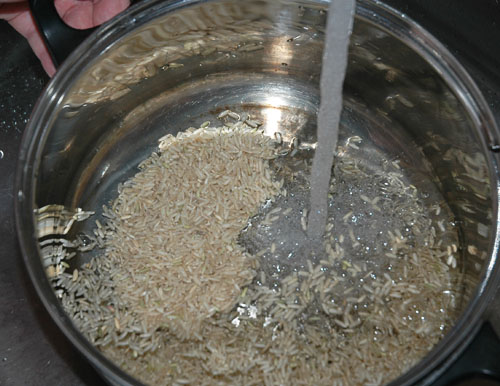 Now swish the rice around gently but swiftly with your fingers.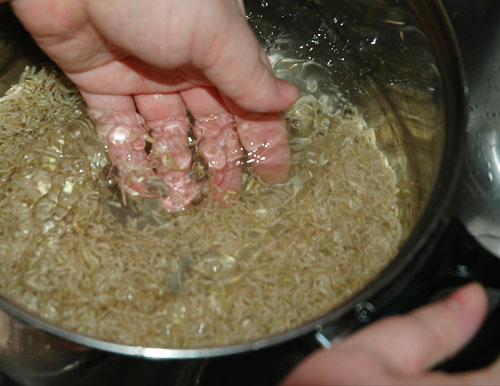 You will notice the water quickly becoming cloudy.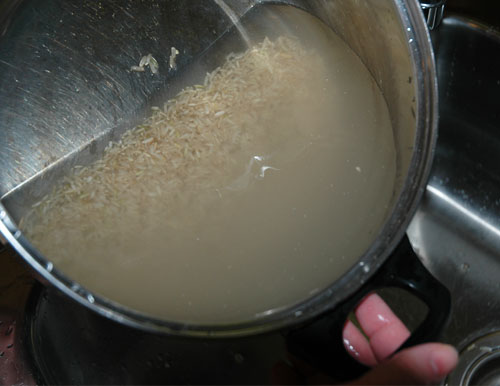 After you have swished the rice around for a few seconds and the water is cloudy, drain the water. I do this by simply tilting the pot to let the water drain through my fingers so that I can catch any grains of rice that try to escape. A few will still escape usually, but only a few.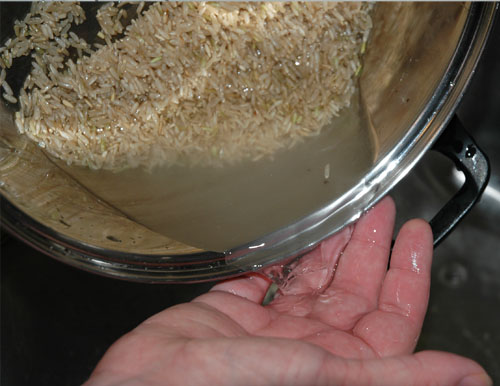 Repeat this rinsing method as many times as you must until the water runs clear. It usually takes me 3 to 5 rinses.
You have a couple options of what to do next. You can proceed directly to the cooking stage or you can choose to soak the rice. Some people give the impression that brown rice MUST be soaked in order to cook it properly. This is not true. When I remember to I like to soak my rice because the end result is a little fluffier. It seems to absorb the water more readily while cooking and just cooks more evenly. Still there are many many times that I don't soak and my rice still turns out lovely.  The difference is not extreme. If you do want to soak your rice then fill the pot with enough water to cover the rice well.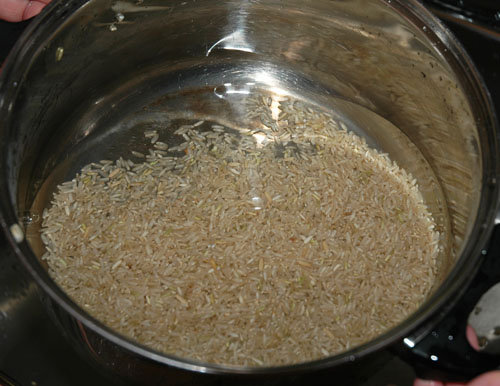 Put a lid on the pot and leave it at room temperature for however long you want to soak it. You can soak it for as little as 30 minutes and you will still get some benefit, but the typical soak time is anywhere from 6 to 12 hours. You can go longer if you want to. Sometimes I leave it for 24 to 36 hours. If you are going to soak the rice for this long then half way through the soak you should drain the water and replace with fresh water. Soaking it for this long causes the rice to start to germinate. There are nutrients that are created within the rice grain that are very beneficial to your health when this happens. So if you have the patience, do a long soak. Remember soaking is optional and whether you choose to do it or not, the cooking process will be the same.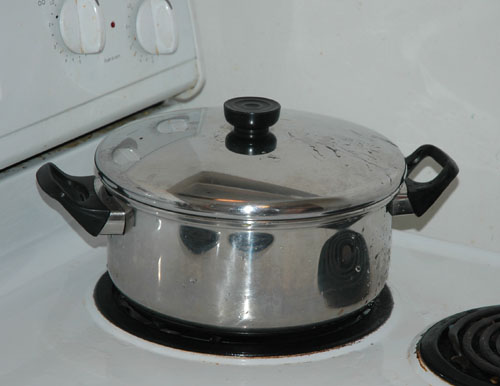 When you are ready to cook your rice drain out all of the soaking water.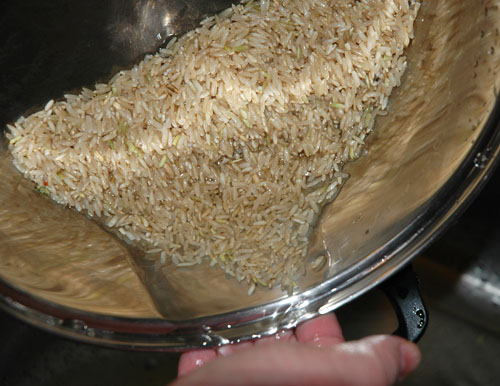 Now measure the appropriate amount of water (or stock), in this case 1 and 1/2 cups. Pour the water into the pot with the rice. (Many people like to add salt at this point. I did not include salt in the ingredients because really, you do not need salt to cook brown rice. I rarely add it during cooking and only add it to the finished dish if I feel it needs it. I really like the taste of plain simple rice with no salt so this is just how I do it. If you like your rice salted, go ahead and add a few pinches into the pot at this time. It will not affect the rest of the cooking process.)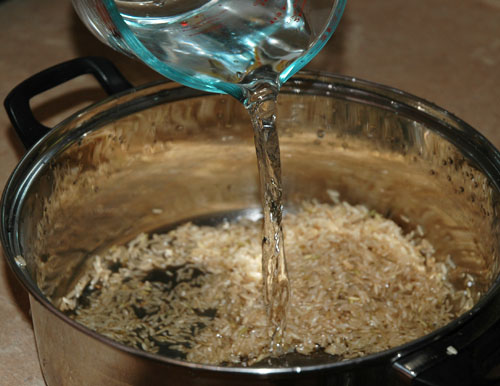 Place the pot onto the stove and bring to a boil at high heat.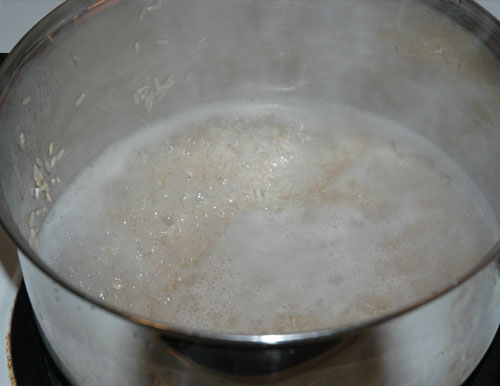 As soon as the water starts to boil vigorously, put a lid onto the pot and turn the heat down to low. Simmer, covered, for 20 minutes.
It might take a little bit of trial and error to find the perfect simmering temperature, especially if you are new to making rice or if you are not familiar with the stove you are using. All stoves work a little bit differently. Simmer too hot and you will run out of water before the rice cooks all the way, and you might possibly even burn the rice a bit, making it crunchy. To low, and the rice might not soak up all the water by the time it should be done, and there will still be free water in the pot along with undercooked rice. It should not take you long to find the sweet spot.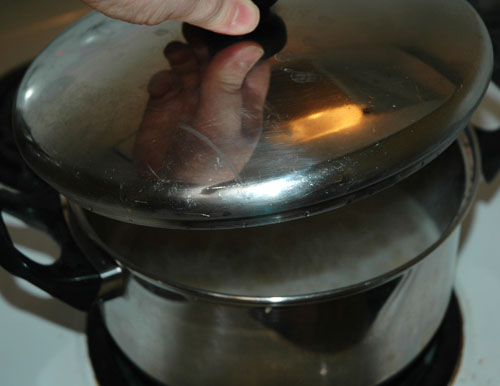 After 20 minutes remove the pot from the heat and allow to rest, with the lid still on, for 10 minutes. The reason for the rest is because at this point the rice is almost finished cooking, almost all of the water is evaporated and turning off the heat at this time will provide adequate residual heat to gently finish steaming the rice and allow it to soak up the rest of the water without risking the ( now dry) rice overcooking and sticking to the bottom of the pan or becoming crispy.
After the 10 minute rest the rice is done! Remove the lid and look at the rice. It should look fluffy and dry.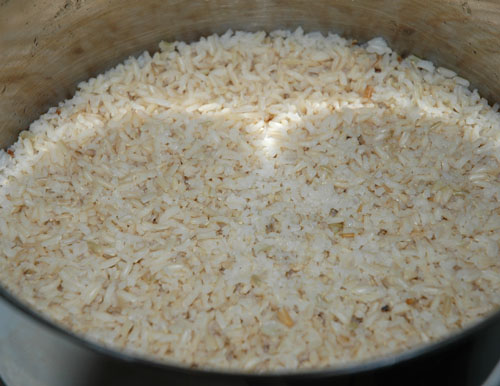 No rice should stick to the bottom of the pot and there should be no trace of water.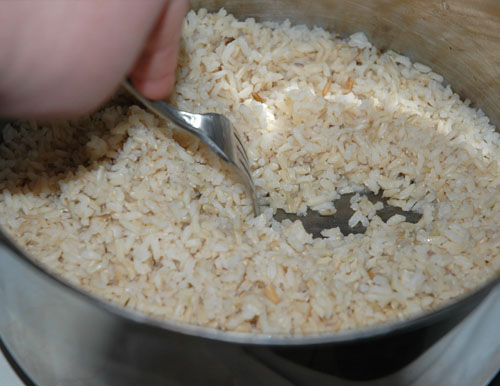 Each grain of rice should be separate (it should not be gummy or sticky). When chewing, the texture should be tender, but not mushy. It should be al dente.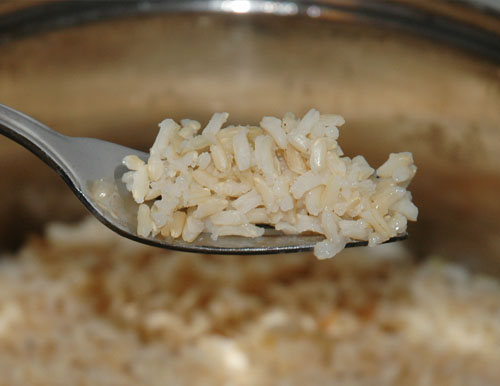 So as you can see, cooking brown rice can be as easy and quick as giving it a rinse and cooking for 30 minutes, or it can take as long as a day and a half to soak and prepare the rice for that final 30 minutes of actual cooking time. It is up to you how much effort you want to put into it.
-Printable Version-
BROWN RICE
Ingredients:
1 part Brown Rice
1 1/2 parts Water (or Stock)
Method:
1. Put the rice into a pot and rinse the rice well until the rinsing water runs clear.
2. If you wish to soak the rice, fill the pot with enough clean water to cover the rice well and put a lid onto the pot. Allow it to sit at room temperature for anywhere from 30 minutes to 36 hours. If you are soaking for 24 hours or more, change the water halfway through. If you do not wish to soak the rice simply proceed to step 3.
3. Measure out 1 and 1/2 parts of water per 1 part of rice that you used. Add this to the pot with the rice ( if you like, you may add salt to the water at this time.)and bring to a boil over high heat.
4. The moment the water is at a rolling boil turn the heat down to very low and put a lid onto the pot
5. Simmer for 20 minutes.
6. Remove from heat and allow to rest for 10 minutes.
7. Serve or use in recipes calling for rice.