Jump to Ingredients – Jump to Method – Jump to Printable Version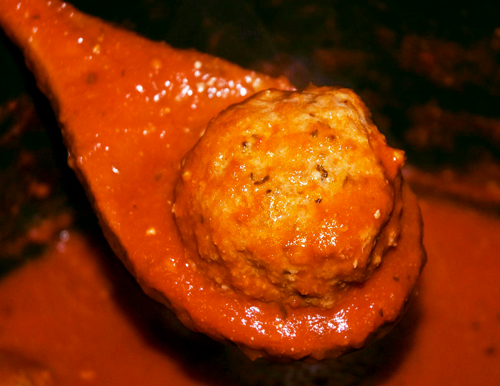 The next recipe I want to post is for my Italian tomato sauce, but for that recipe, you need these meatballs. To make these meatballs, you need to make tomato sauce, so this meatball recipe and this tomato sauce recipe go hand in hand. You could of course make these meatballs with a different sauce, or no sauce, or make the tomato sauce with different meatballs or no meatballs, but that would be just so wrong! I know there is no one right way to make things, but there are certainly wrong ways, and this recipe is one of the sacred ones in my repertoire. If too much is changed about either one, they cease to be MY sauce and MY meatballs, and one of the laws about my sauce and my meatballs is that they are made together. The meatballs are enhanced by the sauce and the sauce is enhanced by the meatballs. One without the other is only half a completed recipe.
This meatball recipe is an adaption of my mother's meatballs recipe, which she learned from my grandmother. I'm not sure just how far back it goes but it is one of those classic beloved family recipes that have changed slightly with each generation. I know, I know, everyone's family recipe for meatballs and sauce is the best, so who am I to claim that this is really any better than anyone else's? I am not claiming that at all except I will say that, to my palate, this is the final word in Italian meatballs and tomato sauce. Other recipes can be delicious, but when I taste this recipe, I taste home. As I have mentioned, I have changed my mother's recipe slightly, but she approves of my changes and absolutely loves my version. Italian-American cuisine just seems to come naturally to the cooks in my family. We have only a little Italian blood, but we have a lot of Italian American cultural influence in our family history. My grandmother had a successful Italian restaurant in Florida for a number of years which featured only her own recipes and she did a lot of the cooking, so I think that our cooking style is something to be proud of.
This recipe will yield anywhere from 10 to 20 meatballs depending on how large you like them, or about 6 servings. If you desire left overs, or are cooking for more than three people I recommend doubling this recipe.
-Ingredients-
1 pound of Ground Beef
This is one of those little changes that I have made. Yes, ground beef is the traditional meat to make meatballs out of, but I am kind of a meat snob, and I usually use ground bison. I recommend using bison if it is available to you because to me the texture and flavour is superior to ground beef. Not that health is the top most important issue when we are talking about old-fashioned home cooking, but the fat and protein profile of bison is also superior to ground beef, so that's just a little bonus as well. Anyway, use bison, beef, or really just about any kind of minced meat you like and the meatballs will be wonderful.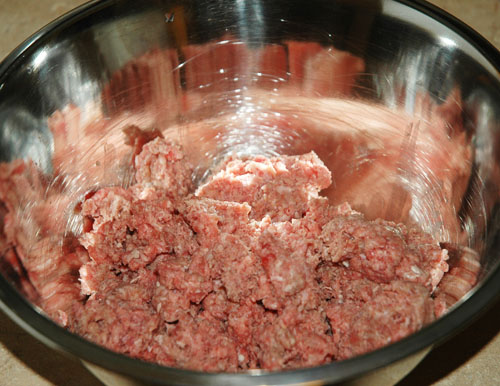 1/4 pound of Hot Italian Sausage
This is another change that I have made. Actually I have to credit this one to my older sister, Michele. The original ingredient was simply ground pork, but we like to add flavourful pork sausage instead. So if you prefer, you can just add ground pork, or even sweet (not hot) Italian sausage, but for me the hot sausage adds just the right touch of flavour. It does not make the meatballs spicy. So if that is a concern, do not worry. It only adds flavour. The hot sausage will be diluted enough that the heat will not shine through.
Another thing to keep in mind about this ingredient is that not all hot Italian sausage is necessarily, um, tasty. If you are familiar with Italian sausage and have a brand or variety that you know you like than that is excellent, but if you do not know a good sausage you may inadvertently harm this recipe by choosing an inferior sausage. If you want to be sure to avoid this, I recommend tasting a few kinds that you have available to you and choose the one with the flavour that you like best. I had no problem with sausage when I lived in Pennsylvania and New Jersey, and never thought that sausage could be an issue, but after moving to Ottawa, Canada, I realized that there are many different ideas of what hot Italian sausage should be, and it took me a long time to track down something useful. I still cannot find anything that I like as much as my old favourites, and this sausage that I am using to make this tutorial was actually brought back with me from a visit home. One tip for picking out hot Italian sausage, and this is merely a matter of taste, try to find one that does not have whole fennel seeds in it. An ingredient of the sausage should be fennel, but ideally the fennel should be ground up and not visible as large bits. Surely there are people who disagree with me on this point, but if you are making my meatballs, you will avoid big fennel seeds.
Italian sausage usually comes in a casing, as this sausage did. Simply remove the sausage meat and discard the casing to use it for this recipe.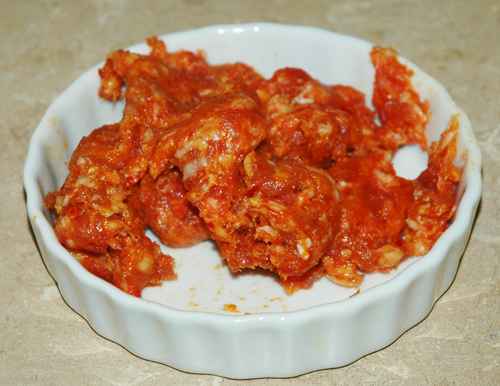 1/2 cup Italian Seasoned Breadcrumbs
I usually make my own(recipe to come), but store-bought ones are perfectly fine.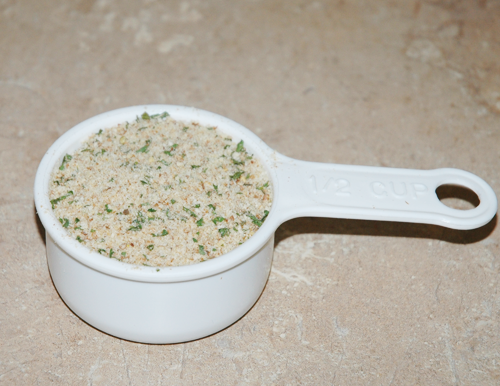 1/2 cup Romano cheese
Pecorino Romano Cheese is the true Romano cheese and it is basically the law that this is the only Romano cheese that you should ever use, but if you have an imitation Romano cheese that tastes alright go ahead and use it. I won't tell anyone. Pecorino can be quite expensive, but I would not use anything else unless there is no other option.
I was just a tad short of a half cup when I made this tutorial so the measuring cup is a little under-filled in the picture. No harm done, but you should use the full half cup.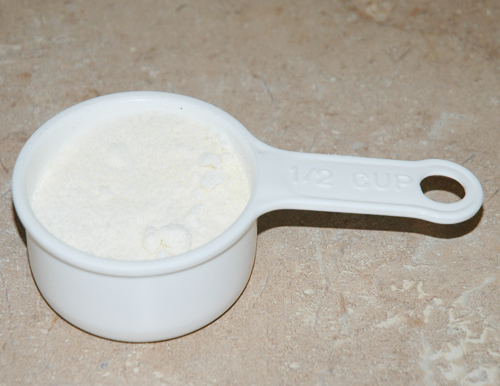 1 Egg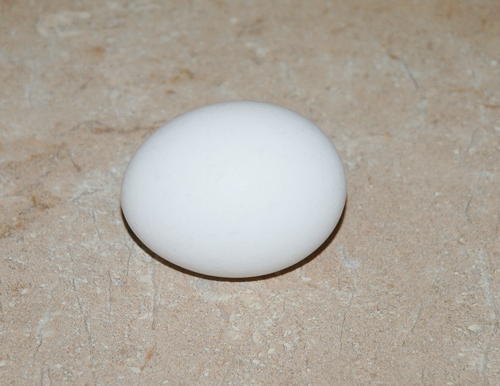 1/4 cup of Milk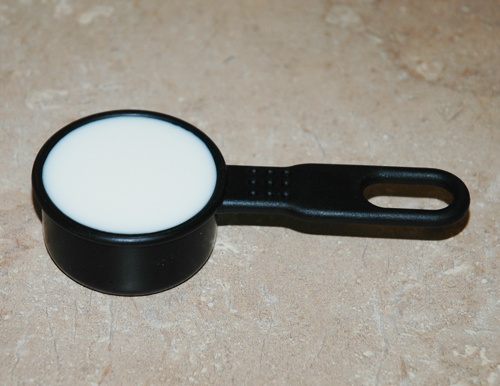 2 tsp crushed Garlic
I don't know why I am so lazy with garlic. I go the extra mile for just about any other ingredient but with garlic I am hooked on the jarred minced kind. It is just so easy to scoop out what you need quickly, and with the huge jars they sell around here it is amazingly inexpensive to get a years supply of garlic. I know that there are a lot of cooks out there who would want to burn me at the stake for using it, but what can I say? I think it works just fine. Anyway if you prefer fresh garlic, and I don't blame you, crush two small cloves.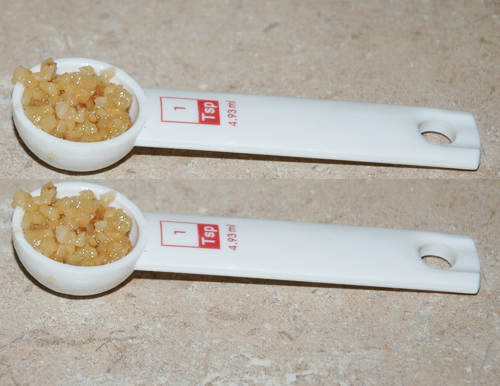 1/2 tsp Oregano
Dried or fresh and chopped finely.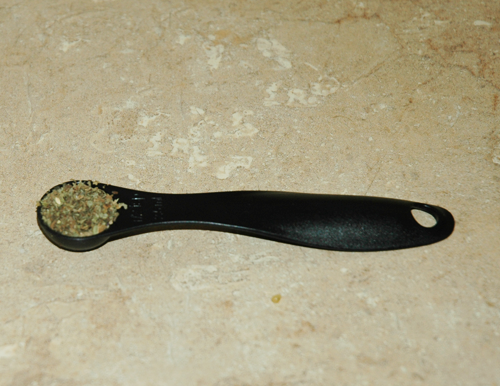 1/2 tsp Basil
Dried or fresh and chopped finely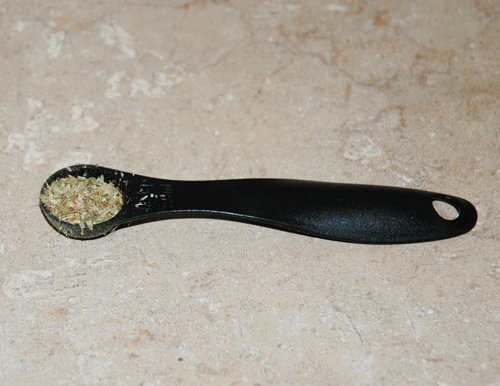 1/2 tsp Parsley
Dried or fresh and chopped finely.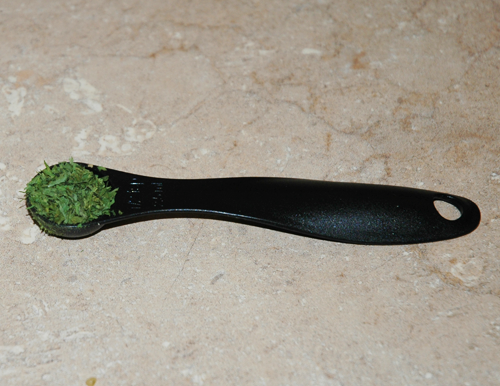 Black Pepper
Freshly ground peppercorns are best. The oils in the black pepper are what hold the flavour and they are quickly lost in preground pepper, leaving little more than heat. For full flavour, crack the peppercorns yourself. Just a dash of pepper is needed for this recipe.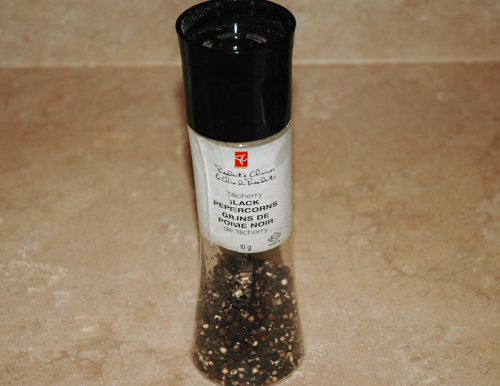 Extra Virgin Olive Oil
Just a tablespoon or so to saute the meatballs.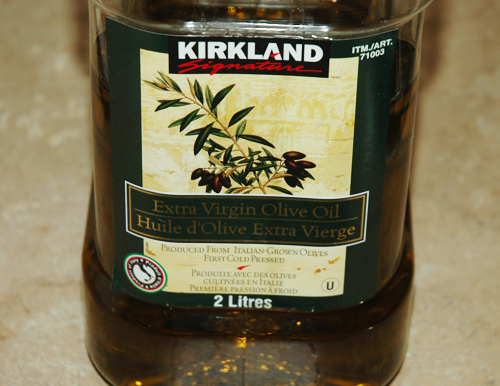 A simmering pot of Tomato Sauce
Ok, sure, you could just cook the meatballs without it technically, but c'mon don't be that way. Just don't.
When you add the meatballs to the sauce, the sauce should have been simmering for at least two hours already.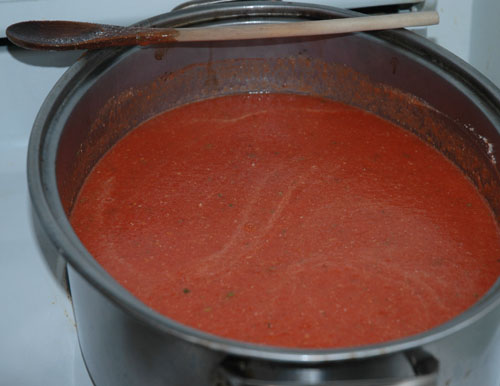 -Method-
Toss all of your ingredients (except the olive oil and sauce) into a bowl. No need to be fancy about it.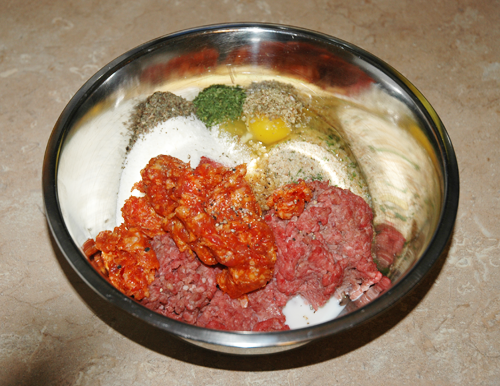 Mix well.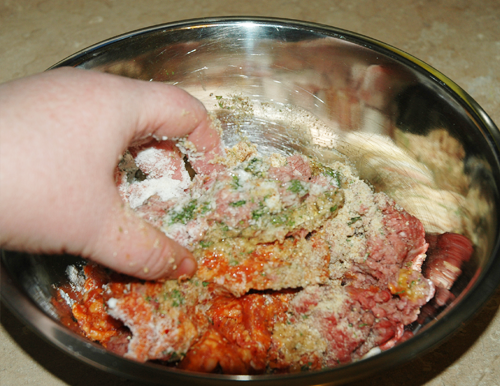 When all the the ingredients are mixed together well, roll the meat mixture into balls. The size of the balls is up to you. I find the perfect size to be a quarter cup of meat mixture per ball. You can just eyeball it or use a dry measuring cup or ice cream scoop to scoop out the right amount of meat. I forgot to take a picture of the raw rolled meatballs. So here is a shot of the well mixed ingredients.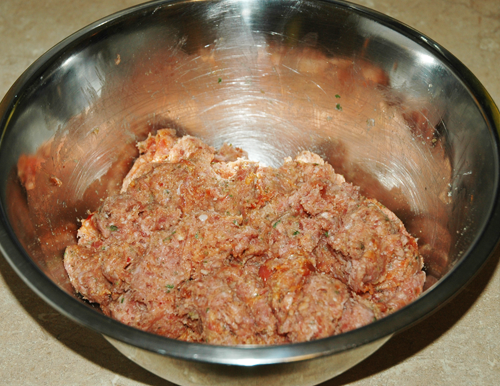 Saute the meatballs in olive oil until most of the exteriors of them are cooked. Do not cook them all the way through. They should still be raw on the inside. (Alternatively you could bake them lightly, or even omit the initial cooking all together.)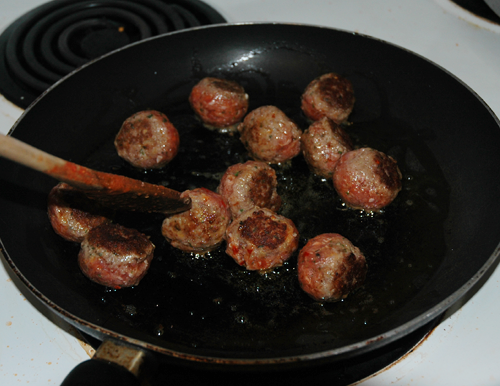 Dab them on a cloth the remove excess oil.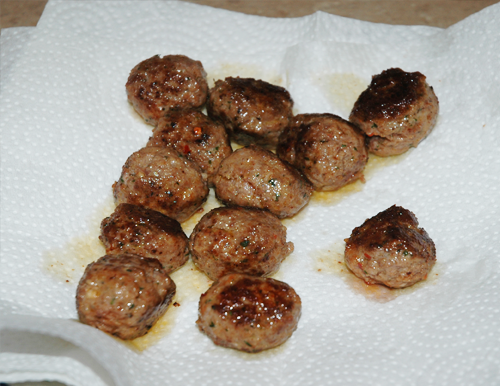 Drop them into tomato sauce that has been simmering for a couple hours.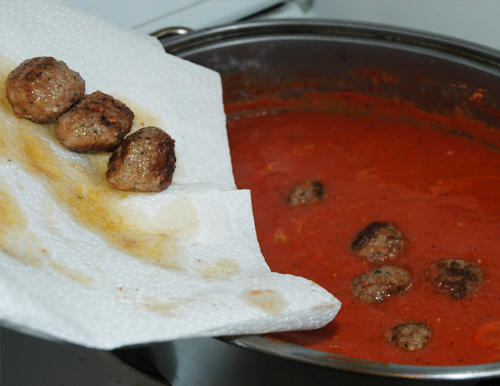 Simmer the Sauce, uncovered, for at least another two hours with the meatballs in it.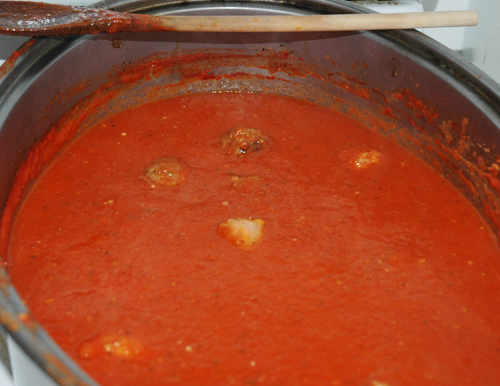 After two hours everything is done, though I often simmer for longer. I like my sauce very reduced and full bodied, but at this point it is definitely acceptable.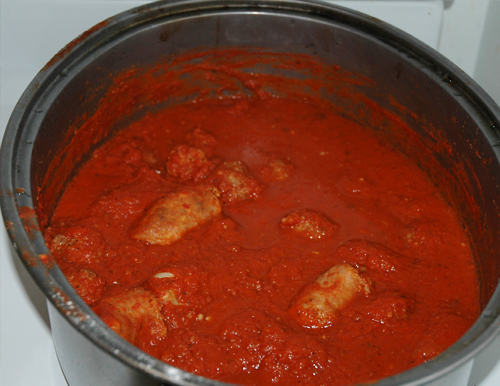 This is everything you need to know about making my Italian meatballs, but obviously there is more to it since you also need to know how to make the sauce. So please refer to my tomato sauce recipe for the other side of the story.
 -Printable Version-
ITALIAN MEATBALLS
Ingredients:
1 pound Ground Beef
1/4 pound Hot Italian Sausage
1/2 cup Italian Seasoned Breadcrumbs
1/2 cup Romano Cheese
1 Egg
1/4 cup Milk
2 tsp (or two small cloves) Crushed Garlic
1/2 tsp Oregano
1/2 tsp Basil
1/2 tsp Parsley
Dash of Black Pepper
Extra Virgin Olive Oil
Simmering Tomato Sauce
Method:
1. Mix all ingredients (except the Olive oil and sauce)well.
2. Roll into balls. (any size is ok but I recommend 1/4 cup meat mixture each)
3. Saute in olive oil until the outsides of the meatballs are browned. Do not cook fully.
4. Drain excess oil from meatballs.
5. Drop meatballs into tomato sauce that has been simmering for a couple of hours.
6. Simmer meatballs in the sauce for at least two hours.