Jump to Ingredients – Jump to Method – Jump to Printable Version – Jump to Video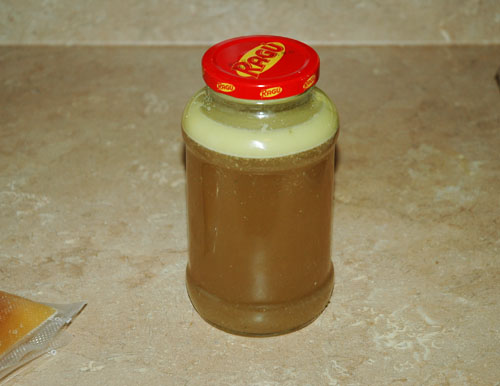 You've heard it before and you are about to hear it again. Homemade chicken stock is FAR better than canned or boxed. It is fresher and more flavourful, and making it yourself gives you unlimited options as to the flavours and consistency your stock possesses. Every home cook should have stock at hand at all times, and ideally, that stock is homemade. Not only does it taste better and provide you with more options, but there are serious health benefits that come with consuming well made stock. I touch on some of that while explaining the recipe in this article.
Making homemade chicken stock is easy. It does take time, but it is very little work. I never measure the ingredients when making it, as there is no need. For the purposes of this post I will be describing specific amounts, but this is only to be used as a VERY rough guide. Feel free to alter (within reason) the amounts of vegetables and chicken scraps as you desire. The stock will be fantastic regardless. Also keep in mind that vegetables are not even needed. I like my stock to have the added flavour of vegetables, but others might enjoy a more pure chicken flavour. That is perfectly fine! Play with it! Find what works best for you! This recipe is just a good starting point for those who have never made it before and are curious about the process.
Your results will probably vary due to many factors, but this recipe left me with a little over two liters (quarts) of rich flavourful chicken stock.
-Ingredients-
About 2 pounds Chicken Scraps
You have the option of using meat, bone, or a combination of the two. I usually use both. I like to buy whole chickens and cut off the legs, breast, wings, and thighs and use the rest of the chicken for stock. Sometimes, like today I leave the thighs on the bird. You may, however, feel free to use a package of chicken legs, thighs, wings, or any other form of chicken bits you like. You can even use organs if you want to, just don't use the liver because it gives off flavours. The skin is good for the stock as well. I usually use raw chicken scraps, but you may also use bones from a cooked chicken. It creates a stock with a smokier flavour. Another thing to keep in mind is that the use of bones in your stock will cause it to contain a lot of collagen. This will make the stock gelatinous when cool. This is a desirable trait so don't be alarmed if you end up with "chicken jello". When warmed up it will liquefy so do not worry about your soups being extra thick. Also collagen is very healthy! It promotes healthy hair, skin, and nails, as well as protects your joints. As  stated before, there isn't much need to carefully measure this ingredient. About 2 pounds will work, so start there if you aren't sure, but feel free to use a lot more, or a bit less if you want to.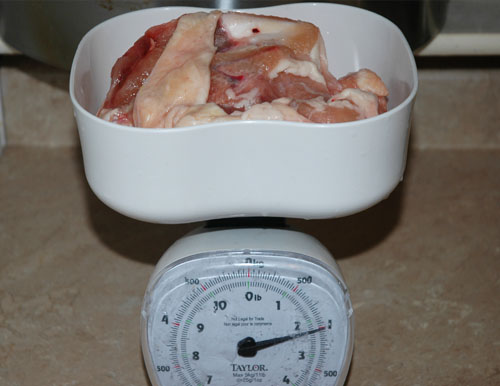 3 Large Carrots
More or less-to-none. as you wish.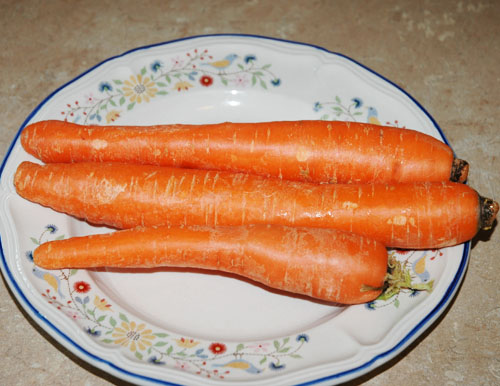 5 Celery Stalks
More or less-to-none, as you wish.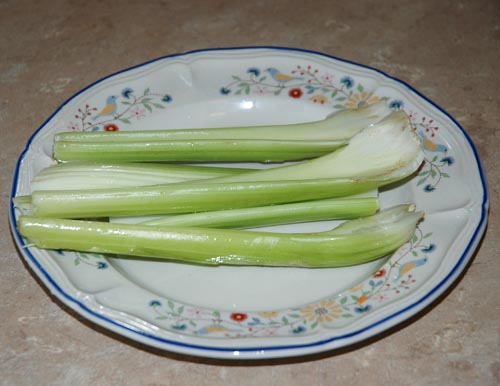 1 medium to large Onion
Yellow or white will work. And of course, more or less-to-none can be used.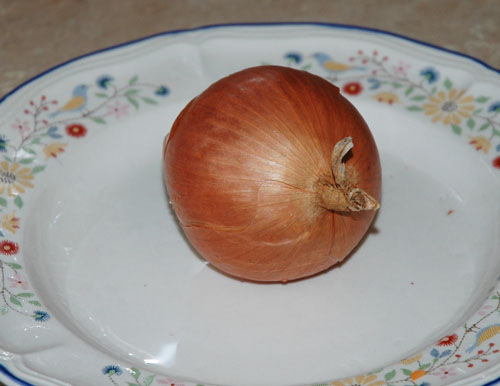 1/8 cup Parsley
Fresh or dried is fine. Also, of course you don't have to really measure this. This is just a reasonable amount to use. It may of course be omitted if desired.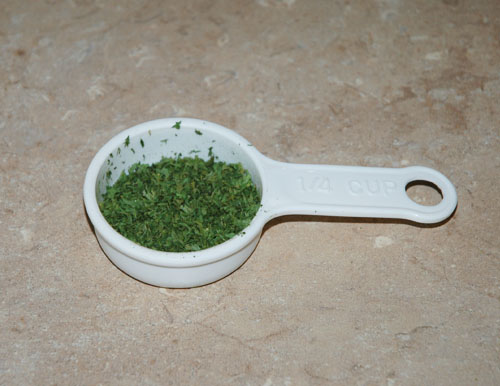 About 6 to 10 liters Water
No need for a picture, it's just water. 😛
-Method-
Wash the vegetables and chop them roughly into big chunks. Place chicken and vegetables into a large stockpot. The stockpot should have a capacity of no less that 6 liters, and ideally 10 liters or more. I don't have a large stockpot and use a stainless steel roasting pan instead. Since it's a large oval shape I actually place it onto two burners. It works perfectly, but ideally you should use a large stockpot. I'll get one someday. (I have one now! haha)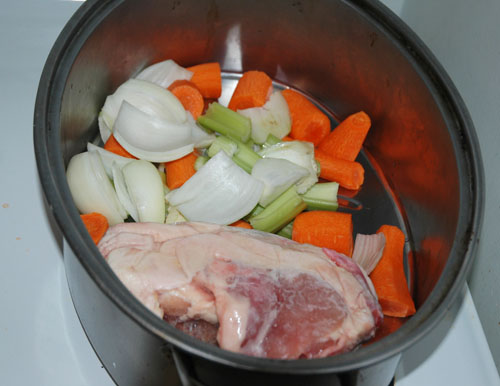 Add parsley and enough water to cover all the ingredients by at least an inch or two. I added about 8 liters of water.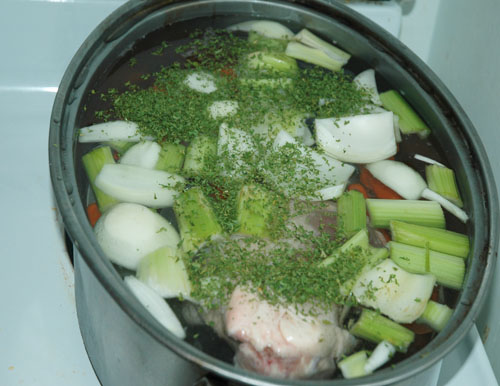 Bring the water to a rolling boil. Let it boil for just one or two minutes and then turn the heat down to medium to medium-low, or whatever temperature will maintain a very very gentle boil. You may have to keep an eye on it and adjust it here and there for the first hour in order to hit the sweet spot.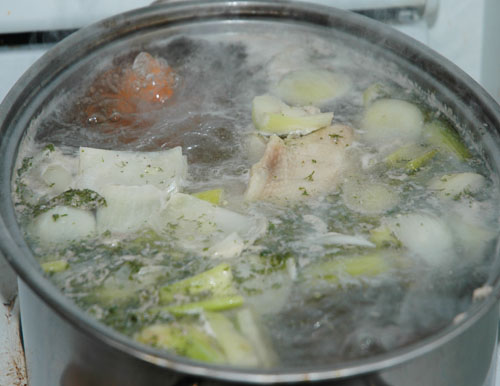 Simmer for 6 to 24 hours, uncovered. I typically aim for around 12 hours. The longer you simmer, the more collagen and other goodness you wall extract form the bones. While some people claim that anything short of 48 hours isn't enough, I think that simmering for this long is a bit redundant. So simmer as long as you wish, but about 6 hours is bare minimum.There is no need to stir, although you may want to flip the chicken once or twice if there is a spot poking out of the water most of the time. Also, during the first half hour or so, you will see foam collecting on the surface of the water. This is coagulated protein. This should be skimmed off. If left in the broth it will not affect the flavour and is not necessarily harmful, except that it will cause the stock to be cloudy. I usually don't worry about it too much unless I want a crystal clear broth for a certain recipe. For everyday home cooking though, there is no need to fuss to much about such trivial things. I just skim off the bulk of it that forms in the first half hour of simmering and leave it at that.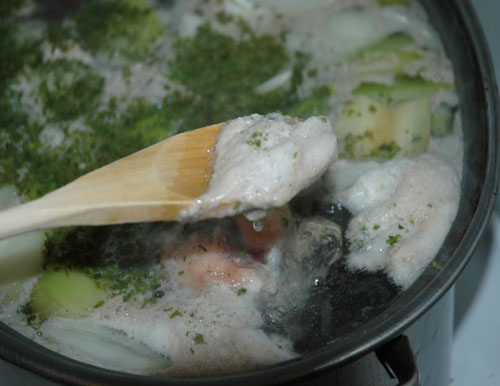 About half way done.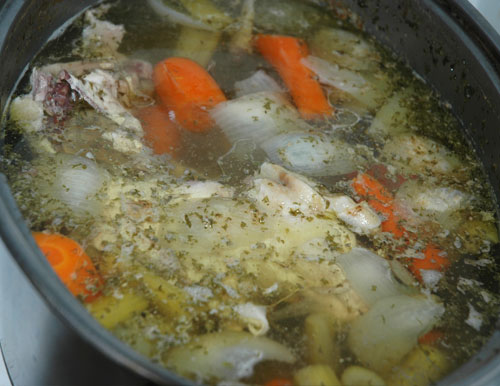 12 hours later, the stock is done. The liquid has reduce to about a quarter of its original volume and the chicken is unrecognizable. The vegetables are completely drained of flavour. It is all in that glorious liquid now.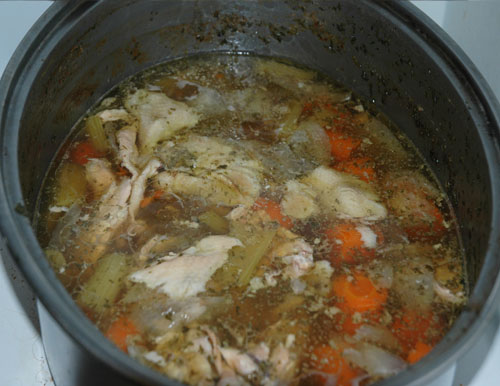 Strain the broth into a large bowl or other suitable container. Discard the vegetables. You can discard the meat if you want to as well. It will be dry and lacking any great flavour at this point, but I usually do salvage it and use it for stir fries and things like that.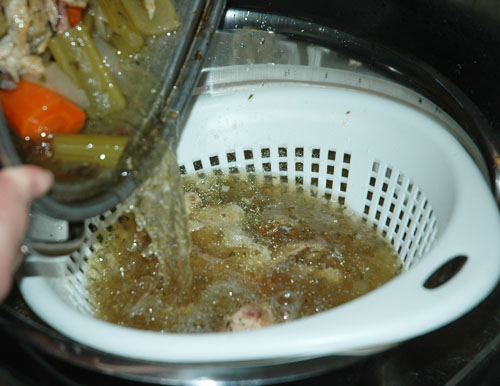 Here I am giving it a second strain through a finer strainer to get more of the little bits out (oh yeah and that carrot that fell back in). This is optional. You may choose to strain it through cheesecloth or even coffee filters and that will get rid of just about all particles.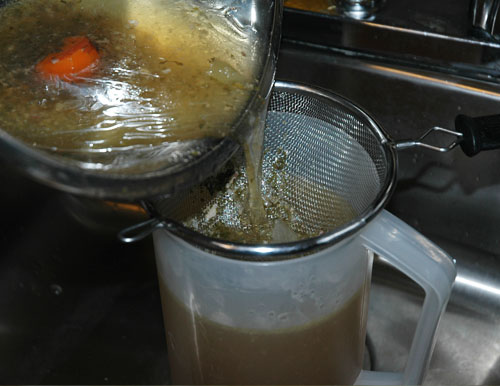 And here it is. A little over two liters of very very rich chicken stock. Now all that is left is deciding what to do with it. Use it for any recipe calling for chicken stock or broth, use it to make sauces and gravies, use it in place of water to make rice, the possibilities are endless. Remember that it is pretty concentrated already and that for a lot of things, like soup, you may even want to add some water to mellow it out. I usually add an equal amount of water to this to make soups, depending of course on what level of flavour I'm after for a given recipe. Sometimes Ill put this back onto the heat and reduce it further. This will make it easier to store. Then you would simply add more water to it when using it. Sometimes I even go so far as to reduce it to the point that it is a very very thick consistency, like caramel. I use that as chicken "base". It can be used in place of bouillon in recipes, along with salt. (Recipe for chicken stock cubes here)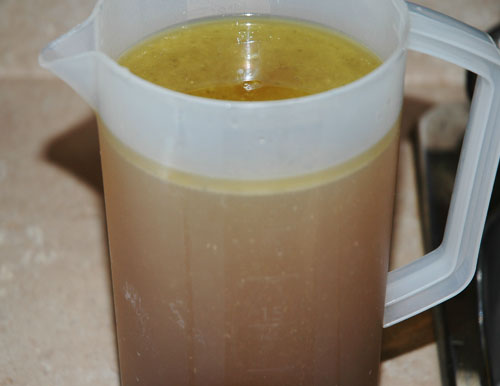 I like to pour some into jars, however much I think I will be using in the next few days and store it in the refrigerator. It will stay fresh in the refrigerator for a couple weeks IF, and this is important, you bring it to a boil for a few minutes every three days. This jar has been refrigerated overnight and you can see that the fat has solidified. When I use this stock I will save that fat, and most likely freeze it. There are a lot of uses for it. DON'T THROW IT AWAY!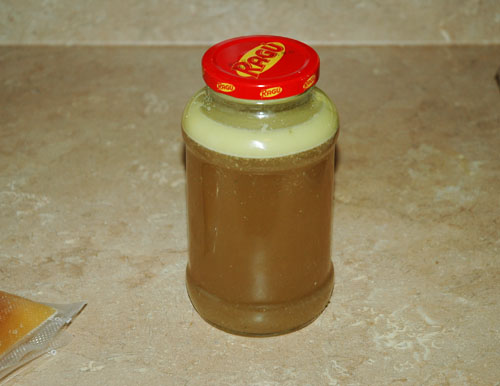 Sometimes I freeze chicken stock in ice cube trays and then put the cubes into baggies and store in the freezer. This make it convenient to use a tablespoon here, and a cup or so there. I also like to freeze 2 to 4 cups worth, depending on my plans, in vacuum sealed freezer bags. These save a lot of room since you can stack them tightly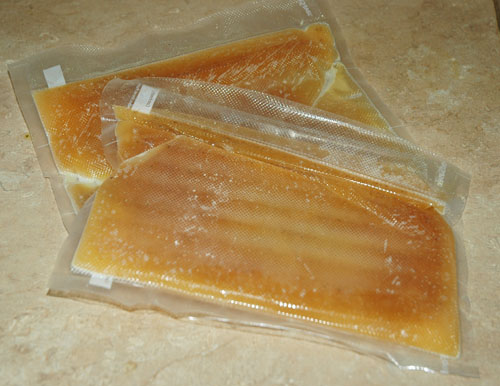 Make some chicken stock! You'll be glad you did!
-Printable Version-
CHICKEN STOCK
Ingredients:
About 2 pounds Chicken Scraps
3 Large Carrots
5 Celery Stalks
1 medium to large Onion
1/8 cup Parsley
About 6 to 10 liters Water
Method:
1. Clean and wash the carrots, celery, and onions. Chop them roughly into large chunks.
2. Place chicken, vegetables, and parsley into a large stock pot.
3.  Add enough water to cover all ingredients well. a minimum of about 6 liters is a good rule of thumb.
4. Bring the water to a rolling boil. Let it boil for just one or two minutes and then turn the heat down to medium to medium-low, or whatever temperature will maintain a very very gentle boil.
5.  Simmer for 6 to 24 hours, skimming off any scum that forms if desired. You may add water if the water reduces too quickly.
6. When it has simmered for as long as you wanted it to, and there is roughly 2 quarts (liters) of liquid left. strain the stock and discard vegetables and chicken scraps.
7. Use the chicken stock right away or store in the refrigerator for a couple of weeks, boiling it for a few minutes every three days to maintain freshness.