Loading
Posts Tagged 'baking white bread'
Jump to Ingredients – Jump to Method – Jump to Printable Version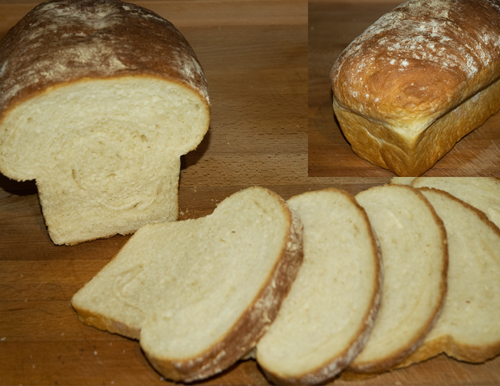 I use this soft white bread dough to make many items. This includes sandwich loaves, rolls and buns of all shapes and sizes, garlic knots, pizza, braided loaves, baguettes, and whatever else takes my fancy, really. Since they all require the exact same dough, I thought I would post the recipe for the dough here, and avoid the redundancy of repeating the entire process each time I want to post a recipe for another item that the dough is used to make. Most of the time, the nuances that make each recipe different takes place once the steps in this guide are complete, so I will simply link you to this recipe and then explain how to finish it in the new article. I will also list on the bottom of this article, all of the recipes that I have posted, that require this dough to be made.
This recipe is for a triple batch of dough. So if you wanted to only make sandwich loafs, this recipe will yield three loaves. What I typically do is make one or two sandwich loaves, and use the other third of the batch to make something else. For example I might make small rolls (Which my husband calls "bread apples", and eats them by the fist full), or a braided loaf, a pizza, or hamburger buns, etcetera. Pretty much every, and maybe actually every, recipe that I use this bread for requires either a third, two thirds, or the whole triple batch. This makes it easy to make multiple things with just one batch of dough. The dough can also be formed and frozen and then thawed and baked at times, though this works better for some recipes than for others. It may seem like a lot to make at once, but if you are a bread eater, and prefer to make your own bread most, or all of the time, making one loaf or small batch of smaller breads all the time is just a lot of unnecessary work. If you think that this is just too much to make at once you are totally free to do the maths and just use a third of each ingredient amount I call for here. It will work perfectly if you follow the instructions with the reduced amount of dough.
Click here for full post.
Friday
Jan 11, 2013