Loading
Posts Tagged 'Barbecue Chicken nuggets'
Jump to Ingredients – Jump to Method – Jump to Printable Version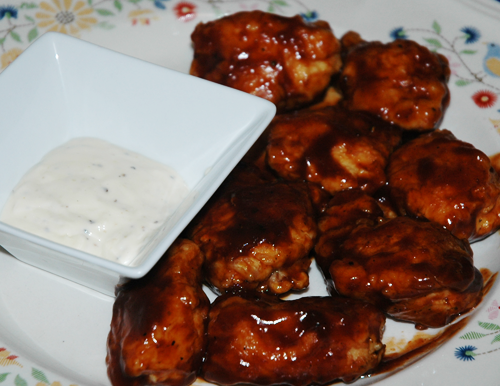 I don't think that it is possible for a human being not to salivate with these things in front of them. Well, except for vegetarians or vegans, maybe, but all we can do is pity them.
I have recently posted a sister recipe to this one, a recipe for buffalo chicken bites. I made both recipes at the same time. I ate the buffalo style ones and my husband ate the barbecue ones (and I stole one from him!). You may notice that I have used some of the same pictures for both of these posts. The reason why is that the process for both is identical, save for what sauces you use.
In the article for the buffalo style bites I ranted about the importance of using blue cheese and not ranch. Well, I won't go into another rant here, but just know that in the case of barbecue wings, or nuggets, it is reversed. Blue cheese has no business getting down with barbecue chicken. If you want to use a dipping sauce, Ranch is the only way to go.
This recipe prepares one serving, which is one average sized chicken breast worth of meat, but you can easily adjust the recipe to make as many nuggets as you want.
Click here for full post.
Sunday
Mar 3, 2013