Loading
Jump to Ingredients – Jump to Method – Jump to Printable Version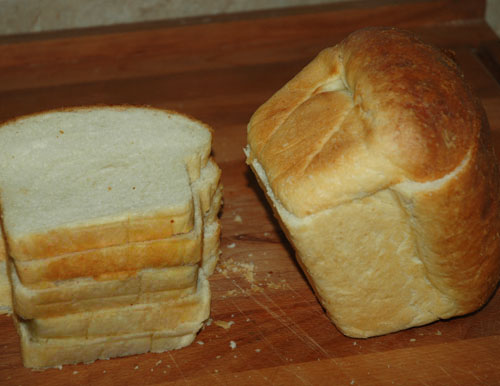 I make bread (a triple batch) around once every month or two. I usually make whole wheat bread, but sometimes I make white bread as a treat, or because I intend to use it for a specific recipe. White bread can be very simple. A fantastic pan loaf can be made with simply flour, water, and yeast. Since I do not make it often,  however, when I do make it, I like to make more than just basic white bread. This is still a simple bread recipe. It is just a bit enhanced to create an amazing tasting, soft, and fluffy loaf of bread. Store bought white bread, that tastes like air and smells like pretty much nothing, is no comparison. This bread can be used for anything you would typically use store bought white bread for. Even fussy bread eaters who only want wonder bread will likely love it. It is simply scrumptious!
The recipe for the dough for this bread can be found here. Please follow that entire recipe, and once the dough has risen, as it did at the end of that recipe, you can come back here and use this guide to finish the job. If you made the full triple batch of dough, then you can make as many as three of these loaves, but if you made only a third of that recipe, or if you are doing something else with the rest of the dough you will obviously only make one loaf. It is totally up to you. Today I am making two pan loaves and a tray of "bread muffins", basically just little rolls cooked in a muffin tray.
Click here for full post.
Friday
Jan 11, 2013