Loading
Posts Tagged 'chicken and spinach'
Jump to Ingredients – Jump to Method – Jump to Printable Version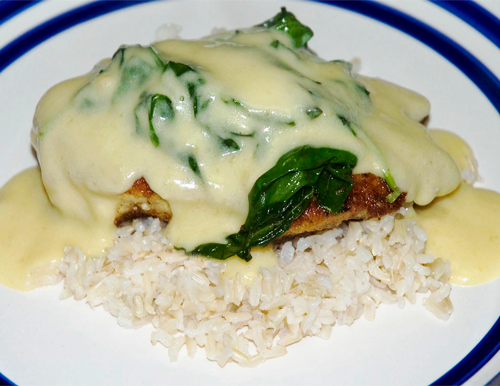 Chicken Florentine simply means chicken with spinach (not a direct translation). Therefor just about any dish that  includes chicken and spinach can be called chicken Florentine. I learned this fact after ordering chicken Florentine a few times at different places and sometimes getting something other than what I expected. There was always spinach though! For most of my life when something was "Florentine" (Chicken Florentine, eggs Florentine, fish Florentine, etc) it meant that it was prepared with spinach and Hollandaise sauce. I now know that Hollandaise sauce is not part of the critical equation, but in my own personal food encyclopedia, Florentine = Spinach + Hollandaise Sauce. That is just the way it is going to be around here. Anyway, this is one of the classic ways to prepare it and I like it because it is simple and elegant as well as totally scrumptious.
When I make chicken Florentine I typically serve it over a bed of brown rice, but it is often served with pasta or a salad. Garlic bread is a very nice accompaniment as well. The rice is not part of this recipe, just the main course, so serve it however you like.
Click here for full post.
Saturday
Feb 2, 2013