Loading
Posts Tagged 'easy quick bread'
Jump to Ingredients – Jump to Method – Jump to Printable Version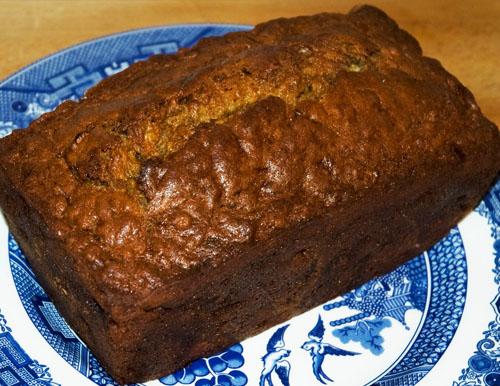 Banana bread was the first quick bread that I ever tried to bake (back in '09). In fact the image here is of that very first loaf. Beautiful isn't it? Whether you are making your first quick bread or you are an experienced baker this banana bread recipe will make you very happy. Quick breads that include fruit (especially bananas) are some of the easiest baked items to make. They give the recipe an incredible amount of slack because the fruit behaves like a sort of glue that simply holds together whatever else you throw at it. Therefor if this or that ingredient isn't measured exactly, it probably wont make much of a difference. So if you are new to the world of baking, banana bread is a perfect place to start. All that aside I want to stress that this recipe just happens to produce the BEST banana bread that I have ever tasted. I never really had a thing for banana bread until I started making it. Now, when I get into the mood to make something sweet this is one of the first things that pop into my head. It is so moist and fresh tasting. It's impossible to describe. You'll just have to make it to understand!
This recipe makes one 8×4 inch loaf that will provide around 8 to 10 servings. Now, though the recipe specifies an 8×4 loaf pan you may choose to bake it in a round or square cake pan, different sized loaf pans or some other form. This is perfectly ok, only you will have to monitor the bread's doneness as the size and shape of the pan will affect cooking time.
Click here for full post.
Friday
Mar 18, 2011