Loading
Posts Tagged 'fresh pasta'
Jump to Ingredients – Jump to Method – Jump to Printable Version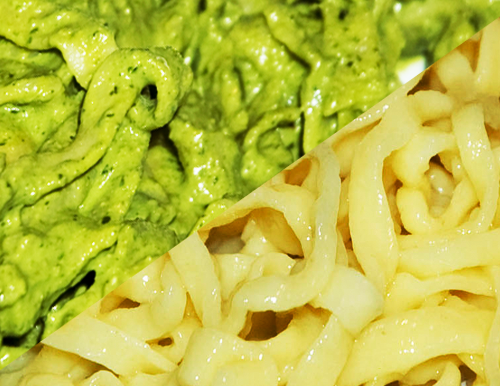 This is a recipe for a very simple, all purpose pasta dough. The resulting pasta is easy to cook, typically only taking a few seconds in the water, unlike dried pasta that can take 10 minutes or more. It has just the right mouth feel, perfectly al dente. It only takes about 30 minutes to prepare the dough, and most of that time is spent resting the dough.
Currently, I have no pasta maker, no machine to help me shape noodles. That is OK! They aren't necessary. I cannot make macaroni or ziti, or other tubular pastas yet, but there are many shapes of pasta that you can make with only your hands, or a knife, or cookie cutters. Without a pasta machine, the pasta is usually a bit rustic looking, but that only adds charm to the dish. I will provide you with instructions on how to cut and form various pasta/noodle shapes.
As I have already said, this recipe is simple, but it can be jazzed up in countless ways. Add a splash of white wine, or some cooked spinach, or tomatoes. You can even play around with the flour. For this basic pasta, a half and half mix of Semolina flour and white all-purpose flour creates what, to me is, a perfect texture. But there are times when I want a slightly softer pasta. For instance when I make ravioli or tortellini, I think that a softer noodle works best and I, therefor, substitute a second cup of all-purpose flour for the Semolina. You can also try using whole wheat flour. Making your own pasta is really a lot of fun and will allow you to be very creative with your cooking. In future recipes I will provide details on some of these and other mods, so keep an eye out for those if you want to try them and think you need more directions.
This recipe will yield enough dough for approximately six to eight servings of pasta. This serving estimation may vary greatly depending on the kind of pasta you are making.
Click here for full post.
Tuesday
Jan 15, 2013