Loading
Posts Tagged 'ghirardelli'
Jump to Ingredients – Jump to Method – Jump to Printable Version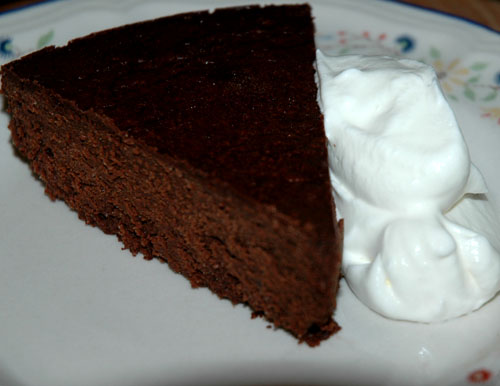 This cake is really special. For people who love dark chocolate, it doesn't get much better than this. Now, the most important thing to keep in mind when making this is to use amazing chocolate. I'm serious. If you make this with cheap chocolate you will completely miss the point. The purpose of this cake is to emphasize the flavour of the chocolate, so if a chocolate with a flat flavour is used then the final product will also taste flat.
Now, I found this recipe on a package of Ghirardelli Chocolate 72% Cacao Extra Bittersweet Chocolate Baking Chips and, to be honest, the recipe was on that package for a reason. This chocolate is incredible. Unfortunately, Ghirardelli is a fairly small company based in California and not all of their products are widely available. When I discovered this chocolate, and this recipe, I was living in Pennsylvania. At that time this package of baking chips was available in the grocery store that I frequented. I have since moved to Canada, and depressingly, Ghirardelli is only a distant fantasy here. Why Ghirardelli!? WHY!!!? Due to immigration issues, I was unable to leave Canada for about two years and during that time I attempted to find a replacement chocolate with which to make this cake. I did research and tried a number of what are supposed to be the best chocolates available in Canada, and the world in some cases, and I was so disappointed. Nothing matched the complex, bitter, full flavour of Ghirardelli. This is the only chocolate that I deem worthy of this cake. Now when I visit family in the States, or when someone comes to visit me, I almost always make sure some of this amazing chocolate travels across the border and lands in my cupboard. It really is worth the trouble in my opinion. I know that I sound like a commercial and I know that everyone's tastes are different but I stress this because without a great chocolate, this cake is just good. With the right chocolate it is orgasmic, and I know that this is a safe bet. Feel free to experiment, however, especially if you live somewhere where you do not have access to this stuff. I challenge you, dear readers, to find another chocolate equally worthy of this recipe. I would love to find an alternative, given the difficulty of obtaining Ghirardelli.
I sincerely apologize for the rant. It was a necessary evil. Moving along now…
This is not a quick recipe. Typically you will need to start this cake the night before the day you want it to be finished because it requires a long cooling period in the refrigerator to set. I just wanted to give you that warning before venturing to begin this recipe. It is a lot of work and takes a long time, but it is worth it!
This recipe will yield one cake that will provide about eight servings.
Click here for full post.
Monday
Apr 23, 2012