Loading
Jump to Ingredients – Jump to Method – Jump to Printable Version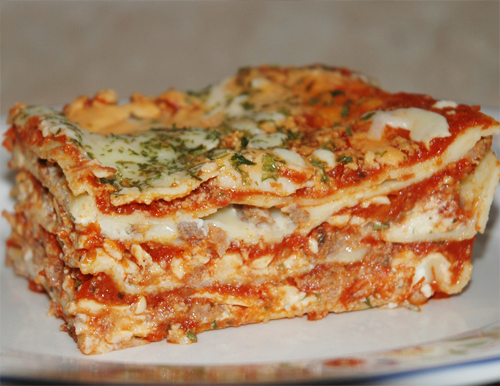 Lasagna is one of those dishes with almost limitless possible variations. You can have eggplant lasagna, cheese lasagna, white lasagna, the list goes on and on. This recipe is, what I personally consider, basic, default, lasagna. Any other lasagna recipe that I may post in the future will require some other word to describe it, as illustrated previously, but when I think of simply "lasagna", this is it. While just about any style of lasagna can be absolutely delicious, this recipe is my favourite version. This lasagna tastes like home.
This, like so many of my other recipes, is a variation of my mother's recipe. The main differences with my version, all of which are optional, are that I make my own lasagna pasta, I use Bison meat instead of ground beef, and I often mix some soft unripened goat cheese in with the ricotta cheese, though I did not do so for this tutorial, since it is not that important and I think that most people will not choose to add it. You can buy your lasagna noodles and use ground beef or turkey or whatever your heart desires, and you will still have a great lasagna! I urge you, however, if you have the time and can access all of the ingredients necessary, try making it my way. While substitutions in this kind of recipe are totally acceptable and don't necessarily ruin the dish, there is a reason why I made the choices that I have made. Short of discovering new ingredients, this recipe, in my opinion is as good as it gets, and when I am forced to compromise it due to time restrictions or lack of a certain ingredient, I find that it is just slightly less than perfect.
This recipe will yield about 8 servings of lasagna.
Click here for full post.
Tuesday
Jan 29, 2013