Loading
Posts Tagged 'tomato soup from canned tomatoes'
Jump to Ingredients – Jump to Method – Jump to Printable Version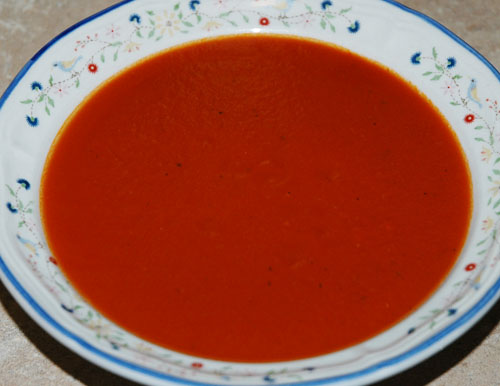 Tomato soup is one of the most popular soups in the world. Unfortunately, however, to most people the idea of tomato soup has become synonymous with the factory produced, condensed canned varieties. While condensed, canned soups are convenient, they greatly lack in flavour, and you never really know what is in them, with those cleverly worded ingredient listings featuring things like "spices" or "natural flavours". Not to mention the questionable ingredients that are often listed such as MSG. By making it yourself you will know what is in it and it will taste far better!
This recipe is not designed to be quick and convenient. It is designed to make great tomato soup. It is meant to be a simple tomato soup that can stand on its own or that can be used as a substitution in recipes that called for a can of tomato soup as an ingredient. This does not mean,  however, that this recipe is designed to mimic the quality of the canned version. It is far more delicious! It will take some time but you will find it well worth it.
This recipe makes four servings.
Click here for full post.
Friday
Dec 10, 2010