Loading
Jump to Ingredients – Jump to Method – Jump to Printable Version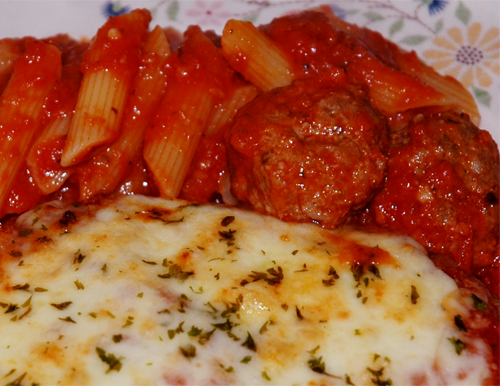 My mother calls it gravy. Yes, I come from a "gravy" family.  I cannot go along with this tradition. It is sauce to me. Gravy is pan drippings or stock thickened with a roux. Sauces are made from a wide variety of ingredients, fruits being one option. Sorry, Mom.
Though we disagree on the name, we agree about everything else on the subject of tomato sauce. When I was learning how to cook this was one of the first things I wanted to learn how to make. I, and everyone else who ever tasted it, always admired my Mom's, really the family's, amazing tomato sauce. What a nice surprise it was, to learn how easy it is to make. The secret is mainly in the technique, which is mostly about patience, and quality of the ingredients, rather than quantity of them. The simplicity is partly what makes it so special. It's all about enhancing the flavour of the tomatoes by complimenting them with ingredients that support, and do not overpower their flavour, and simmering the sauce for a long long time. Yes, we are those people who believe that a worthy sauce has to age into its full potential. There are those who think that a wonderful sauce can be made within an hour. This has never been proven to me. A quick sauce in my opinion is simply flat.  Not only should a sauce be simmered for hours, but it should be chilled and allowed to sit in the refrigerator for at least 8 hours, then be brought back up to heat before serving. It is only after this rest that all of the flavours truly combine. So when you decide to make this sauce, start the day before you intend to eat it.
I am not really sure how many servings this recipe makes. How do you measure a serving of sauce? Some people like a lot and some people only use a little. I like a lot of sauce and I suppose I could serve up around 10 good sized plates of pasta with a generous amount of sauce on it with this recipe, but this is only a rough guess. Even if you are cooking only for yourself or a couple of people, this is the smallest batch of sauce you should ever make. It freezes well and has lots of uses so even if you do not think you can eat it all within a couple of days you can always freeze it for later.
Click here for full post.
Monday
Oct 15, 2012
Not all tomatoes are created equal. This is something that is important to understand when cooking with them. Whether you are using fresh or canned tomatoes you must be sure that they are not going to cause your dish to have any off flavours. I have had a fantastic recipe fail because I used bad tomatoes and I feel that I must address this issue before posting any tomato based recipes.
Most of my life I lived in and around New Jersey. This area, many are aware, is known for fantastic tomatoes. When in season, they are some of the best you can get, and when out of season, I had some really fantastic canned tomatoes I always used. Then, just a few years ago, I moved to Canada and found out the hard way that you can't take great tomatoes for granted. Just a few weeks after moving here I tried to make tomato sauce using my family recipe that has never ever ever failed. This time, however, it failed. The local fresh tomatoes in my new area are almost all pale and hard, with no flavour, and most of the canned varieties are bitter. I unwittingly used some canned tomatoes from the local grocery store and the sauce I made that day tasted like stomach acid.
I tried every brand of tomatoes that I could find in the area and pretty much all of them were sour, bitter, or just lame. I started reading forums and foodie blogs of people who live in my area to see what they use. I started hearing things about DOP San Marzano Tomatoes. These tomatoes are shipped straight from San Marzano Italy where it is said that the BEST tomatoes are grown. These are, presumably the only tomatoes that "real" Italian chefs will use for their sauce. "Be sure to find DOP on the label!" I was told, to be sure I was getting the real deal ( DOP is the seal of authenticity for real San Marzano tomatoes). I found out where to find them, little mom and pop specialty Italian shops would carry them. I was getting excited. "Not only", I thought, "will I have tomatoes again, but surely they will be BETTER than anything I've ever had!" I went out to a few shops and bought a can of every DOP certified San Marzano brand I could find. After tasting each one individually I was horrified to discover that they all tasted just about as bitter as all the other brands I've found. Now to be fair, I never found Cento, which seems to be the brand everyone swears by. Just look up sauce recipes and you'll see it all over the place. So I can't speak for that brand in particular but I can say that DOP San Marzano tomatoes are NOT necessarily better than any other brand. I almost gave up completely until one day I tried a type I hadn't tried before. It was a very cheap looking generic can of tomatoes. I expected them to be bitter like all the others and just planned to mask it with sugar. To my astonishment however, they actually tasted good! The only problem with this variety is that they have a lot of seeds so I always sieve out the seeds before using the tomatoes in a recipe. Tuttorosso, (the brand I used to love when I lived in the USA) didn't have this problem.
Click here for full post.
Wednesday
Dec 8, 2010