Loading
Posts Tagged 'active dry yeast'
Jump to Ingredients – Jump to Method – Jump to Printable Version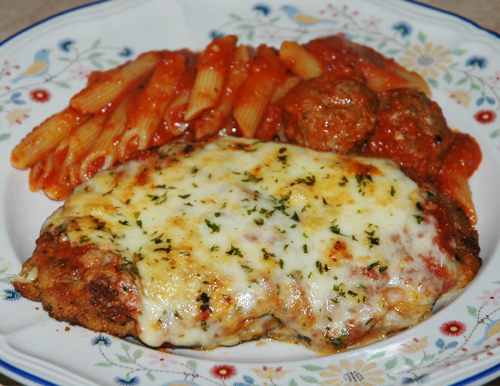 Who doesn't love Chicken Parmesan? Well, besides vegetarians, whom we can only pity. Chicken Parmesan is one of the most popular Italian cuisine inspired dishes in the world. It is so easy to make and so popular, it is pretty much a guaranteed hit no matter the occasion. It is a nice and easy meal to prepare just for yourself or immediate family, and is a quick, easy and beautiful dish appropriate for even the fanciest dinner parties.
This recipe is designed for two large chicken breast. If you are using smaller breasts, or more or less, you can easily adjust the recipe accordingly.
Click here for full post.
Saturday
Oct 20, 2012
There are a few choices when it comes to what kind of yeast home bakers have available to them. I only have experience with two kinds, instant yeast and active dry yeast. These are the most common yeasts called for in home baking recipes. When first learning how to bake bread I would follow each recipe to the letter. Since some recipes call for active dry yeast and others for instant, I simply made sure I had both on hand. This works, but it is a little inconvenient. Really, yeast is yeast. Which ever form you choose to use, it is the same organism and it will do the same thing to your dough. No matter what kind of yeast a recipe calls for, if you know how to substitute for your favourite kind, then you can confidently alter bread recipes.
So, What is the difference between different kinds of yeasts? Why choose one over the other? It is a matter of feel, ease of use, storage, and cost. Remember, no matter what kind you use you can get the same results as though you used another kind of yeast, but the way you use it will vary. Therefor I recommend trying a few different kinds until you find the one that suites your style best. Then you can learn how to substitute your type of yeast in recipes that call for another kind.
This is definitely not an exhaustive list, but here are a few common types of yeast that you may see in the grocery store.
Cake Yeast – This is the traditional fresh yeast known to home bakers from decades past. It is still widely available and is often used commercially, but sometimes harder to find than dry yeasts. It has a short shelf life, but can be frozen for a few months to keep it fresh a little longer. It is not called for in most home baking recipes these days, as other kinds of yeast are easier to use (I know, that is a subjective) and store better. Some people dissolve it in water before adding to the other dough ingredients, while others say it works just as well simply by crumbling it into the flour. I have never used this yeast myself.
Active Dry Yeast –  This is the traditional dry yeast. It is sold in packets or jars and consists of small pellets that contain dried hibernating yeast. In order to use this yeast in a dough recipe, it must be activated by dissolving it in warm water (approximately 105 to 115 degrees F) usually with a little bit of sugar, to feed it. It is then allowed to "proof" for a few minutes until the water becomes foamy. This is when you will know that the yeast is alive and active. This form of yeast stays fresh for many months in the refrigerator and around a year and sometimes more, in the freezer.
Click here for full post.
Wednesday
Apr 27, 2011