Loading
Posts Tagged 'chicken stir fry'
Jump to Ingredients – Jump to Method – Jump to Printable Version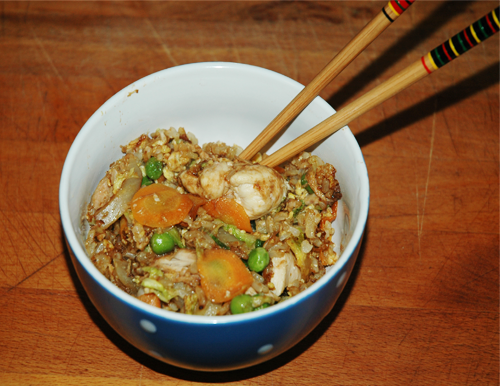 I make chicken and rice a lot and this is an easy and delicious way to use leftovers. You can of course prepare rice and chicken fresh just for this dish, but I don't think that I have ever done that.
This is a basic stir fry and pretty much every ingredient is modifiable. You can use many different vegetables and even other kinds of meat and you will still have an awesome meal. I do not think that I have ever made this dish the same way twice. The point of stir fry is ease and to use up the last bits of this and that. That said, I went ahead and measured out each ingredient that I used today, and I feel that the result was a very well balanced dish in flavour and texture, but please do not get caught up in trying to mimic this recipe exactly! Just think of this recipe as a guideline on how to make one version of fried rice.
If you follow this recipe to the letter you will yield about four servings of chicken fried rice.
Click here for full post.
Monday
Feb 11, 2013